Our Cars: 1994 Citroen XM Exclusive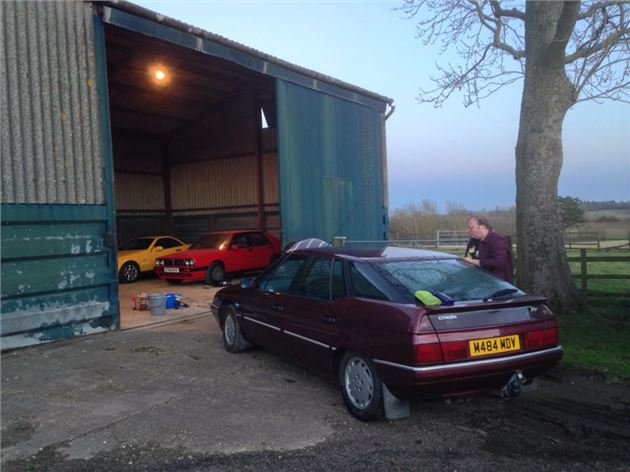 2 January 2014: Getting some spit and polish
The Details
| | |
| --- | --- |
| Current mileage | 152,000 |
| Actual economy | 24mpg |
| Costs since last report | £0 |
It's been a quiet few weeks for my latest purchase, this rather nice Citroen XM Exclusive. Regular readers will recall that I've taken on this car as a bit of a rolling winter restoration, with the plan to run it as my semi-modern 'daily', while enjoying a luxury ride that most people can only dream of. However, since I got it back home, it's been sat in my storage area gathering dust - a victim of the busy weeks in the run-up to Christmas.
However, in day of down-time during the holidays, I started work on the XM. As they say, start small and build up - and that's what I seem to be doing with this car. The first job was to get it out of my lock-up, and over to the spacious barn of my friend Richard Kilpatrick, so that the work can begin in anger. The observant among you will see that my Lancia Delta Integrale is also enjoying its vacation here in the warm and dry. That's the best place for it.
It's never going to be concours, but who really wants that?
The drive across certainly allowed me to sharpen up my list of things to do on the car. The tyres definitely need changing - and I have a set to put on (as well as some lovely alloy wheels that came with the car) - because on the damp drive on Northamptonshire's B-roads, it felt very skittish indeed; not a behavioural trait you'd associate with the XM. The height corrector has yet to settle down, and the rear end sometimes rises at random intervals, the clutch is Lamborghini Countach-heavy, and there's a constant hiss coming from the hydraulics.
But beyond that, I can see the potential in this car - it's straight and fundamentally sound.
Once ensconced in Richard's barn, we took the time to start properly polishing the car to see what condition the paintwork and body is in. In this respect the news is very good indeed - the paint's a bit flat on the roof, and it was covered in both tree-sap and a weird blue fall-out that may be from a tarpaulin that may have covered it in the past, but otherwise it's in great condition, and comes up a treat. Of course, the polishing process in the near-zero conditions of a British winter's day is not ideal, but it's an ideal way of burning off some of those Christmas calories.
The most important aspect of this process was to build up a list of things to do. Ticking them off one-by-one is a good way of keeping on top of your project, and keeping track of your own spending. So, here's mine.
Cure hydraulic hissing
Cure the heavy clutch
Change the tyres
Sort out front suspension tracking
Investigate the height corrector
Oil and filter change, as well as a basic engine service
Fit dashboard bulbs
Sort out headlamp wiring
Remove tow bar
Feed and clean leather interior
Sort out ill-reading exterior temperature sensor
Fix rust on front inner sill
Check for any other corrosion
Sort out flat paint on roof
Look for unscuffed front and rear bumpers
Replace chrome inserts on rubbing strips
Looks bad - but as I said at the top, look beyond this, and take in the overall condition of the car, as well as its amazing service history, and there's the basis of a solid and fun retro car for daily use as well as long distance motorway journeys.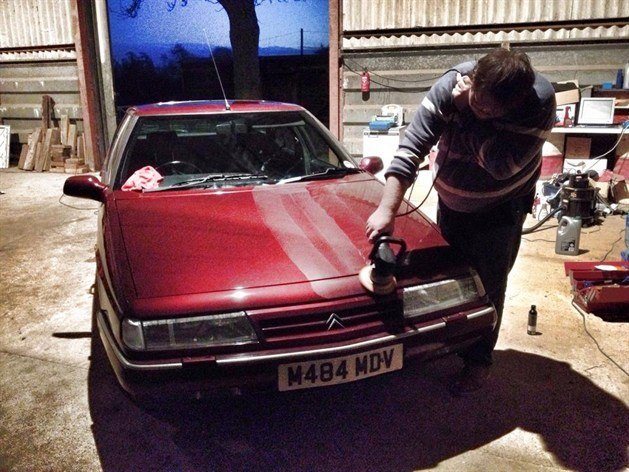 « Earlier: Citroen XM joins the fleet Later: Fighting on another year... »
Updates

The Citroen XM has had a quiet winter and spring so far - with the MoT taking time to prepare for - but the good news is that with some jobs, it's through. But there's much more to do...

2 January 2014: Getting some spit and polish
The Citroen XM gets an on-road work-out, followed by a bit of a session with the polisher - it's the first step to knowing how long the fix-list is going to be...

The Citroen XM is already an appreciating classic car - but it's still possible to pick up a perfectly good example for very little money. If you're prepared to work at it...