Our Cars: 1994 Citroen XM Exclusive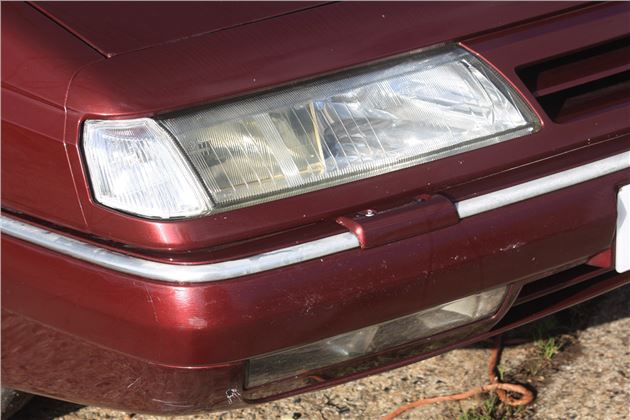 3 November 2013: Latest arrival: Citroen XM 2.0CT Exclusive
The Details
| | |
| --- | --- |
| Current mileage | 151,850 |
| Actual economy | 26mpg |
| Costs so far | £144.50 |
My latest car is a Citroen XM. Okay, it's not actually that original a choice for me - as I've already had three of the things, with varying levels of success. This one, I'm pretty confident is going to be one of the good ones, given I know its extensive history, it's a Phase 2 example in fully-specced up Exclusive form, and as well as being in running MoT'd condition for very reasonable money, it also comes with a skip-full of spares, thanks to its previous enthusiast owner, Stewart Weller.
My history with XMs stretches back a long way. When they first went on sale in the UK in 1990, I promised myself I'd end up with one sooner or later. And as a 19-year old car enthusiast, I wandered over to my local dealer in Poulton-le-Fylde, and pressed my nose against the showroom window for a closer look. I was rapt. Seven years later, I bought my first one - a pristine 1993 2.0i Turbo automatic, which was pressed into service as my daily runner for a couple of years. In that time, it never failed, missed a beat, or even wavered despite covering 30,000 hard miles. Unlike the Audi A6 that replaced it.
In 2003, I bought another one - this time at the other end of the scale - a £500 SEi Turbo. And again, in two years' hard commuting, it never missed a beat. I trusted it so much, I sold it to my best friend. The third wasn't so good - a 1998 example bought in 2012, which represented the worst an XM could be - non-functioning windows, hydraulic leaks all over the place, random misfires and cut-outs, blowing manifold, the lot... I saw the potential, but just didn't have the time. It was quietly moved on.
So, why buy another? Like all big Citroens, when they're right, they give so much back to you, and I knew that Stewart's was very much one of these cars. It spent much of its life in Geneva, so it has a French service history (good job I can read it), and came back to the UK three or four years ago, when Stewart ended up with it. Back when it became available, I'd been tempted to buy the XM and drive it back from Switzerland (as one does), but I think cashflow and a hungry SD1 restoration got in the way. So it never happened. Still, four years on, I'm not going to turn down another chance.
And now it's dark, the wind is howling and the rain is lashing down - and our dim headlamps, and perished wipers are doing little to improve my confidence.
Cue a windy November afternoon, and I'm with friend Mike Humble, and family member and French car nut Matthew Hayward, to collect the car from Stewart's place. Mike's been on many of these trips with me before and has brought tools, and a back-up car in the shape of an MG6. He knows things often go wrong when I'm involved. Stewart's apologetic about the XM's flat front tyre and battery, but those are soon dealt with. The exhaust has come apart in the centre section - and after Mike loses patience with my pathetic efforts to clamp it up, he clambers under the car and fastens it all up, with me holding the pipe in position for me. It's cold and wet, and not an auspicious introduction to life in the XM lane.
But we're soon on our way, MG6 taking the lead, and me following. Like any journey with an old car that's been stood for at least eight months, it's worth being very careful. So, I took it slowly, feeling my way in. The good news is the suspension works as it should on its recent spheres and LHM, and it stops and steers exactly as it should. Of course, the clamp fell off the exhaust exactly one mile into our 70-mile journey, and the height corrector had a few early drive wobbles...
And now it's dark, the wind is howling and the rain is lashing down - and our dim headlamps, and perished wipers are doing little to improve my confidence. At one point, Mike stops the MG in front of me, jumps out, and thumps the front headlamp, bringing it back to life. Better.
A precautionary stop for fuel and oil about 10 miles in revealed very little fluid in the sump - so that was topped up. Another thump of the headlamp to get it working, and we're on the motorway. A couple more miles in, and I remembered just why I love these cars so much - despite the appalling weather, the car is tracking straight and true, the ride comfort is absolutely superb, and yet it still corners with little body roll or drama - I love it!
Of course, the car and driver made it home in one piece, with no dramas whatsoever - andI have a tick list of things to put right on the car. It's far less lengthy than you might imagine, which once there's a new set of tyres and an exhaust system on it, leaves me to enjoy a rolling project through the winter months, while my beloved Lancia Delta Integrale remains tucked up in a nice, warm garage.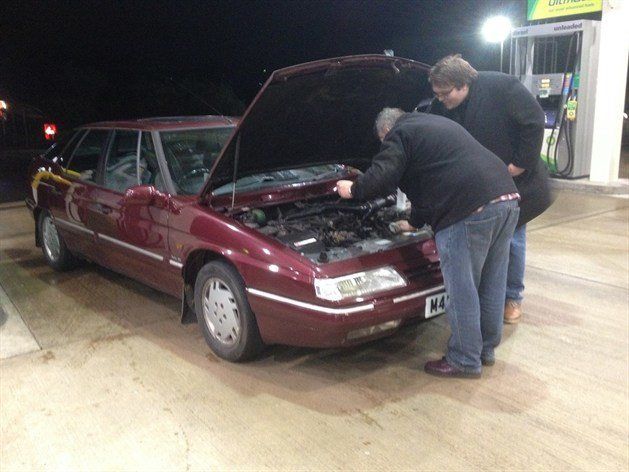 Mike Humble checks the contents of the sump, while Matthew Hayward tries not to laugh at this car's mechanical complexity.
Later: Getting some spit and polish... »
Updates

The Citroen XM has had a quiet winter and spring so far - with the MoT taking time to prepare for - but the good news is that with some jobs, it's through. But there's much more to do...

The Citroen XM gets an on-road work-out, followed by a bit of a session with the polisher - it's the first step to knowing how long the fix-list is going to be...

3 November 2013: Latest arrival: Citroen XM 2.0CT Exclusive
The Citroen XM is already an appreciating classic car - but it's still possible to pick up a perfectly good example for very little money. If you're prepared to work at it...