Kei cars to headline Autumn Classic and Fringe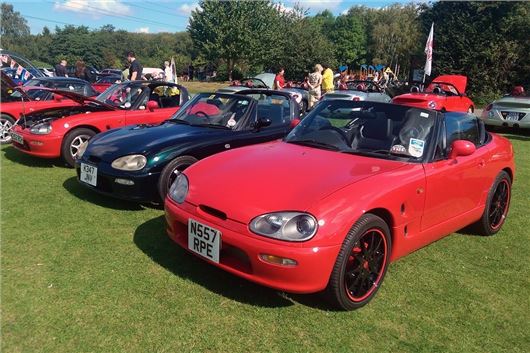 Published 12 August 2015
The centrepiece at this year's Autumn Classic and Fringe show will be the 'Kei cars in the Park' club. The owners' tiny Japanese machines will join hundreds of vehicles aged 20 years or older - along with some newer machines - at the Heritage Motor Centre on 27 September. 
Kei result from Japanese tax rules which benefit vehicles under a certain size, with no more than 64bhp and an engine of no more than 660cc. These lightweight cars often pack some serious technology – the Daihatsu Mira Avanzato TRxx R4, for example, has all-wheel drive and an intercooled turbocharger.
Other well-known Kei cars include the Suzuki Cappuccino (pictured), the Autozam AZ-1, the Honda Beat and the Daihatsu Copen – the latter of which was officially sold in the UK, albeit with a larger engine than the Japanese market car.
Other clubs set to appear at the Autumn Classic and Fringe event include the Metropolitan Club and the Peugeot 406 Coupe Club UK, however clubs and individuals are welcome to turn up on the day without pre-booking.
There will be a 63 miles run through the Cotswolds for drivers and passenger, the entry cost for which is £22 per car if booked in advance. The price includes a rally plaque, plus entry to the Heritage Motor Centre and a cream tea for two. The run starts at 10.15am and cream teas are served from 3pm-4.30pm.
Comments
Author

John Slavin
Latest