Pre-war cars do battle on tough Flying Scotsman rally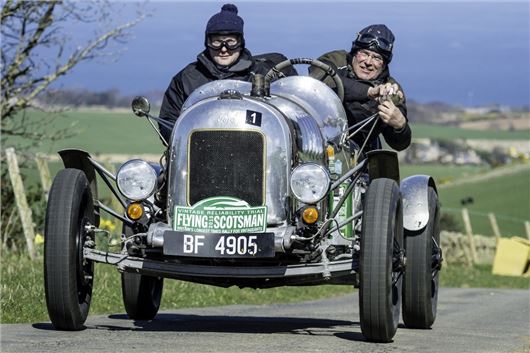 Published 23 April 2015
The sun shone down on this year's Flying Scotsman Rally as the 110-strong field of pre-war cars battled it out over 750 miles from Leeds to Scotland's Gleneagles in three days.
It was William Medcalf, last year's winner, with navigator Tony Brooks in the 1925 Bentley Super Sports that raised the winner's cup at the finish line of what has been called the toughest short pre-war rally in the world.
William said, 'This is a really tough event where you have to push the car to the limits to manage your position. It's full on for the navigators and there is stiff competition, as the event's reputation for being expertly organised has resulted in serious rally entrants from all over the world.'
Second place went to Bill Cleyndert and Dan Harrison in the 1928 Ford Model A, who almost found himself out of the rally on the final day when the rear axle broke until the rally leader came back to help him fix it. Bill kept urging William to return to the rally, to which William replied, 'I want to beat you on the road, not by the side of it, now grab a hammer!'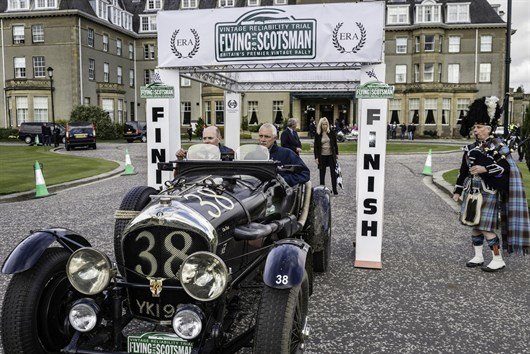 Winners: William Medcalf and Tony Brooks in the 1925 Bentley Super Sports.
David Thomson and Alan Smith in the 1936 Talbot 105 Alpine took third place with Sue Shoosmith and Trina Harley in the 1926 Bentley 3-4½ in fourth with the class win. The Netherlands' Olaf Pothoven and Piet van Leusden, also in a Bentley Derby 3½, finishing just one second behind in fifth with a class win.
There were also class wins for Brad Mottier and William Hoff in the Riley Bigley Special, Jonathan Turner and Jonathan Proctor in the Triumph Dolomite, and Martin and Lesley Neal in the MG TA Sports.
Both team awards went to Bentley crews while the Spirit of The Rally award went to George Melville and Steve Gipson in the Ford Model A Sports Coupe. The Concours D'Elegance award went to Robin and Helen Rainsley in the Ford Model A.
The next Flying Scotsman takes place 14-17 April, 2016. The next ERA event sees the team move stateside as 45 crews take part in the second TransAmerica Rally from Halifax, Nova Scotia, to San Francisco, California, in June. For the latest updates, visit www.endurorally.com
Comments
Author

Keith Moody
Latest