Comment: Clubs and the price of youth?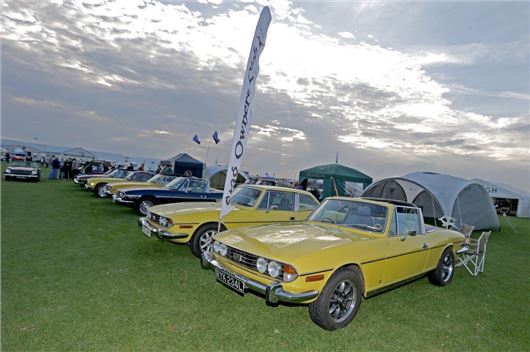 Published 03 May 2016
There's been quite a bit of whingeing lately, especially in some of the more traditional areas of the classic car media about car clubs dying off. Indeed, we know of one single-make car club AGM held recently to which only one member turned up, re-elected himself as chairman, and buggered off home again.
Is this a sorry state of affairs, a sign of the times, or a signal of the classic car movement being in ill health? Not a jot.
First, the classic car scene, as a whole, is very healthy indeed. Good shows are seeing increasingly large attendance figures. Like it or not, prices of good classics are still on the up across the whole of the market, not just big ticket supercars and thoroughbreds, and there's a massive amount of support businesses that are all making a decent living out of the enthusiasm that the likes of you and I show towards older models. Classic cars are good for the economy, and the passion for them is real.
For the clubs, the need is to accept that life is changing and move on. Those like the Stag Owners' Club have embraced new technology with busy social media accounts (check out their Twitter feed). While those that complain bemoan the lack of younger people coming onto the classic car scene, saying that the passion for older cars will die unless the clubs to do something to reel them in.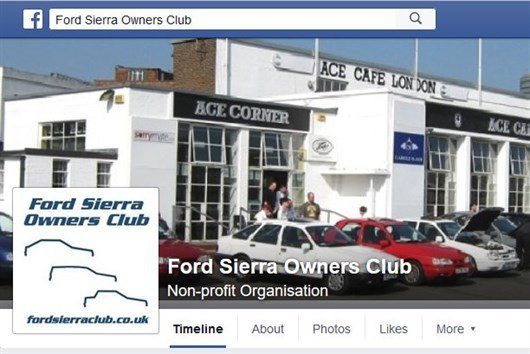 Ford Sierra Owners' Club has a strong social media presence.
Yet there's no shortage of younger fans out there. At shows and events, there are hundreds of people in their 20s and 30s that are enjoying the experience and passion that comes with owning, or even admiring, older cars. They just don't feel a need to be so tribal about it.
Recently, I was chatting to a young enthusiast, born in 1994, at a show in the Midlands. His car of choice was a 1986 Ford Sierra 1.6, and its appeal, he told me, was two-fold. First, he'd loved cars from a very early age, and was a born at a time when there was a Sierra on every street corner. As a young child, it was one of the first cars he truly remembered. Secondly, and perhaps foremost, the car gave him a sense of identity. In a world of being permanently connected, always online, and never able to escape his work or social life because each would meld together, constantly, on his smartphone, the Sierra's plastic, cloth and velour sanctuary was a Twitter, Facebook and Snapchat-free zone. A place where he could truly relax and be himself and, if the mood took him, stick on a Frankie Goes to Hollywood cassette and pretend to be an Eighties pop star. And who wouldn't?
Yet, ironically, it's his life of connectivity that allows the lad in question the ability to own and enjoy his Sierra in the first place. For when he's not cowering away from modern life behind the inevitably cracked dashboard fascia, he can talk freely to fellow owners, swap and buy parts via forums and Facebook groups, gather technical advice and even, dare I suggest, make friends. What's more, he doesn't even have to go to a committee meeting.
Of course, there's a place for owners' clubs. The best ones are thriving (both the Morris Minor Owners' Club and the MG Car Club, for example, have young owners sections), and the more agile ones have adapted, using social media and online technology to grow their memberships.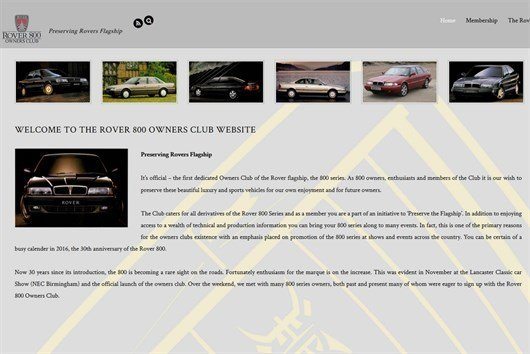 Then there's the cars themselves. The lad with the Sierra, for example, has a model that just a decade ago would have been sniffed at if it turned up at certain shows. Today, there's a vibrant following for Ford's increasingly rare old Jellymould, along with other models of the era.
The recently formed Rover 800 Owners' Club is a great example, having come together not in the traditional sense, but from a group of enthusiasts who first met online, many of whom still only know each other virtually, but are more than happy to help each other out with parts, advice and often amusing banter. The 800 is the epitome of a car that's gone from banger-like ridicule to on-the-cusp classicdom in recent years, largely because most of the rubbish ones have gone, and the ones that survive are worth saving.
The times, then, are-a-changing. And the clubs should be, too, because those that don't adapt will sadly see their numbers dwindle while the rest of the classic car scene thrives around them…
Comments
Author

Craig Cheetham
Latest