Barn finds in demand at Barons auction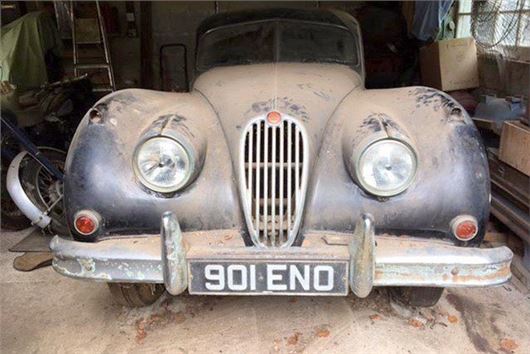 Published 21 June 2017
Barn finds were the big winners at Barons' British Heritage, Classic and Sports Cars sale.
Bidders competed over the 1971 Bristol 411 S2, the 1954 Jaguar XK140, and the 1981 Morgan 4/4. This tempting trio of restorations all exceeded their guide prices, selling for £28,600, £16,775 and £11,600 respectively on 13 June at Sandown Park.
At the other end of the condition scale, immaculate British classics also proved popular, with a 1924 Riley 11/40 Sports Tourer, a 1973 Jaguar E-type V12, and a 1982 Austin Morris Mini HL Clubman all going to new homes, selling for £28,500, £36,300 and £11,000.
Here are the full results from Barons Sandown Park Sale on 13 June.
Year

Make

Model

Sold @ Inc

Guide

1973

Jaguar

E-type V12

£36,300

£40,000 to £55,000

1971

Bristol

411 S2

£28,600

£17,000 to £22,000

1924

Riley

11/40 Blue Belle Sports Tourer

£28,500

£28,000 to £33,000

1996

Bentley

Turbo R

£17,160

£9,000 to £12,000

1954

Jaguar

XK140

£16,775

No Reserve

2001

Porsche

911 Carrera 2

£15,950

£14,000 to £16,000

1992

Lamborghini

Tribute Diablo

£15,400

£19,000 to £22,000

1973

Triumph

TR6

£14,850

£14,000 to £16,500

1988

Jaguar

XJS V12 Convertible

£12,650

£12,000 to £14,000

1981

Morgan

4+4

£11,660

£7,000 to £11,000

1958

 

Austin- Healey

MKI Sprite

£11,220

£9,000 to £11,000

1982

Austin Morris

Mini HL Clubman

£11,000

£14,000 to £16,000

1965

Sunbeam

Alpine

£10,780

£9,000 to £12,000

1990

Jaguar

XJS V12 Convertible

£10,500

£10,000 to £13,000

1965

Jaguar

MK10 4.2 Saloon

£9,900

£8,000 to £11,000

1937

Austin

6 Limousine

£9,900

£8,000 to £10,000

1957

Mercedes

190 Ponton

£8,800

£6,000 to £8,000

1969

Lotus

Elan +2

£8,250

£12,000 to £14,000

1983

Mercedes

380SL

£8,140

£8,000 to £11,000

1987

BMW

635 Csi

£7,370

£6,000 to £8,000

1966

MG

B Roadster

£7,150

£4,500 to £6,500

1999

Jaguar

XKR Supercharged

£6,930

£4,500 to £5,500

1970

Fiat

500 Lusso

£6,930

£6,000 to £8,000

1988

Jaguar

XJS Convertible

£6,050

No Reserve

1996

Westfield

2 Axle Rigid Body Sports

£6,050

£3,000 to £5,000

1998

Fiat

20V Coupe

£6,000

£5,500 to £7,250

1988

Porsche

928 S4

£5,940

£5,000 to £8,000

1975

Fiat

500R

£5,500

£5,000 to £7,000

1990

TVR

S3

£5,390

£6,500 to £8,500

1958

Wolseley

1500 MKI

£5,225

£4,000 to £6,000

1980

Triumph

TR7

£5,060

£3,500 to £5,500

1968

Bugle

VW Beach Buggy SWB

£4,840

£6,000 to £7,000

1987

Rover

Range Rover

£4,620

£3,500 to £5,000

2004

Audi

TT 225

£3,850

£3,000 to £4,000

1968

MG

BGT MKI

£3,300

£5,000 to £6,000

1971

Fiat

125 Special

£3,300

£4,000 to £5,000

1996

Alfa

Spider

£2,970

£3,000 to £4,000

1995

Dorian

SS Convertible

£2,420

£3,000 to £4,000

2003

Mini

John Cooper Works

£2,310

£2,000 to £3,500

1997

Land Rover

Range Rover P38 HSE

£2,200

£2,500 to £4,000
Comments
Author

Keith Moody
Latest