Ferrari 275 GTB Berlinetta makes £1.56m at auction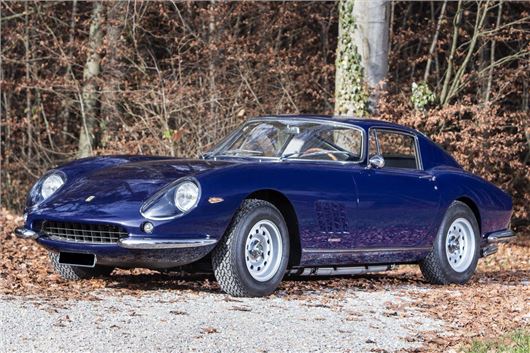 Published 05 February 2016
An impressive lineup of Ferraris led Bonhams' sale in Paris last night. Top of the bill was a 1966 275 GTB Berlinetta, which sold for £1,559,331. Boasting a V12, 300bhp engine, it was the successor to the 250 series, spearheaded by the legendary 250 GTO.
And a 2002 Ferrari 550 Barchetta Pininfarina sold for £340,240, while a 2010 Ferrari 599 GTO sold for £320,529, and a 2002 Ferrari 575M Maranello coupé sold for a world record price of £259,888.
Philip Kantor, Bonhams European head of motoring, said, 'Fifty per cent of the top ten lots from today's sale were from Ferrari, with the remainder coming from Aston Martin, Bentley, Jaguar, Mercedes-Benz and Rolls-Royce.'
Elsewhere, a generous donor offered his 1969 Mercedes-Benz 280SL Convertible for sale, with proceeds to benefit a Parisien charity. The Fondation de l'Assistance Publique – Hôpitaux de Paris (AP-HP) is dedicated to supporting post-trauma research, and will receive £61,280 from the sale for their cause.
Further sale highlights included a 1961 Aston Martin DB4 Series IV, sold for £459,136, a 1951 Bentley Petersen 6½-Litre 'Dartmoor' coupé, sold for £363,843, and a 1964 Rolls-Royce Silver Cloud III Cabriolet sold for £320,529.
Comments
Author

Keith Moody
Latest