Actor Erik Charell's Mercedes to go under the hammer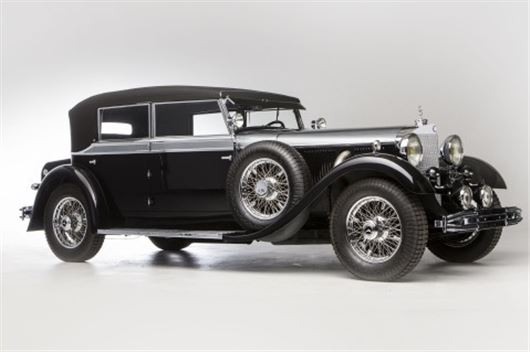 Published 25 March 2015
A Mercedes-Benz 770 cabriolet that was once owned by German actor and director Erik Charell will go under the hammer this weekend.
The car, which is one of just 18 made, is expected to fetch €2,300,000-2,800,000 (£1.7m-£2m) at Bonhams auction in Stuttgart on Saturday.
The 770 'Grand Mercedes' Cabriolet D was originally the property of German actor, producer and director, Erik Charell (1894-1974).
Charell's accomplishments include award-winning work in both film and theatre, most notably the 1930 resurrection of the play The White Horse Inn (Im weißen Rössl), transforming the production into an international hit musical.
Charell curated some of the more glamorous and risqué stage performances of the 1920s and 1930s, credited with challenging the conservatism that dominated German theatre.
Introduced in 1930 at the Paris Motor Show, the 770 'Grand Mercedes' Cabriolet D was the most luxurious model of the Mercedes-Benz range, noted for its elegance, beauty, size and clear extravagance.
Philip Kantor, Bonhams Head of European Motorcars, said, 'It was reputed to cost 47,500 RM (Reichsmark) when new, roughly the price of a family home. It's unsurprising that a director such as Charell would have been the owner of such a fantastic car; these were clear symbols of both success, status and style.'
Held in the Mercedes-Benz Museum on 28 March, Bonhams auction will feature a variety of some 40 classic motor cars from across the German marque's century long history.
The Mercedes-Benz Museum charts the entire history of the world's oldest car manufacturer. A total of 1500 exhibits are featured in the museum, including 160 vehicles.
Comments
Author

Keith Moody
Latest