1967 Lotus Elan SE FHC to Feature in H&H Classic Auction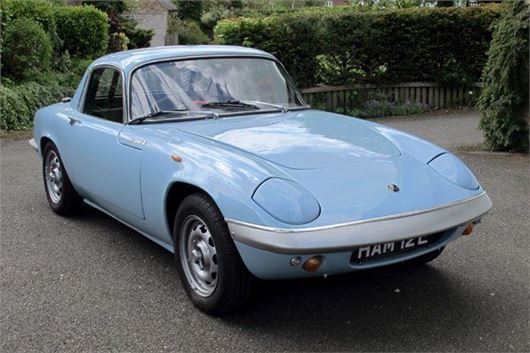 Published 21 May 2014
A Wedgwood Blue 1967 Lotus Elan S3 SE FHC is to feature in H&H Classics Rockingham Castle Sale in association with the Rolls Royce Enthusiasts Club on 21st June.
The SE, 'Special Equipment' model has the desirable standard spec of a close-ratio gearbox, knock-on steel wheels, servoed brakes and a more highly tuned Lotus twin-cam engine. The vendor, who has owned the car twice in its life, first in 1978, and then from 2007 to date, states that much work has been done to keep the car in tip-top condition. Since an extensive refurbishment by marque expert Peter Day in the 1990s, which included fitting a new, galvanised chassis, it has covered just 19,479 miles. Estimate £19,000 - £23,000.
The sale also features a 1971 Range Rover, in evocative Davos White, which has also been the subject of a painstaking restoration, fully documented with photographs. It's an early car with a chassis number in the 1,000s, and comes complete with the later installation of a more fuel-efficient Land Rover 300Tdi diesel engine and 5-speed gearbox, although the original, 'matching numbers' 3.5-litre petrol V8 and 4-speed 'box are included in the sale. The vendor clearly appreciates the qualities of his Range Rover, reporting that it "is a superb car to drive, does not wander and remains sure-footed under modern driving conditions." With the 300Tdi engine, fuel consumption is now 34mpg, apparently.  Estimate £18,000 - £22,000.
Further early entries for the H&H Rockingham sale include:
1939 SS Jaguar 1.5 Litre Drophead Coupe.1 of just 6 known survivors and restored during the late 1980s 
c.1937 DKW F5 Front Luxus Convertible 700: Rare 'mini Horch' four-seater convertible 
1960 Daimler SP250 Dart Rack and pinion steering, unleaded fuel conversion and upgraded brakes, etc.
1970 Maserati Indy 4.2: 1 of 440 made and extensively restored between 2007 and 2011 
1971 Mercedes-Benz 300 SEL 6.3: 1 of 702 RHD cars made and recent (1,000 plus hours) restoration 
1977 Rolls-Royce Silver Shadow II Well maintained example with 70,000 recorded miles 
1981 MG B LE Roadster 20,000 miles from new
More at H&H auctions
Comments
Author

Honest John
Latest