Ex-24 Hour Cobra tops the lots at Artcurial's Le Mans sale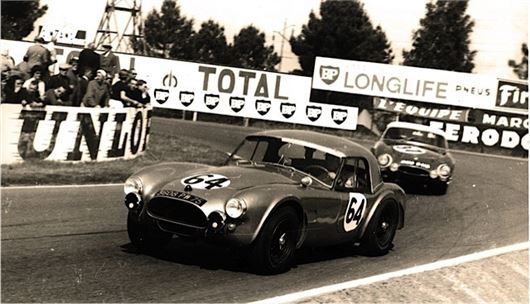 Published 07 May 2014
Artcurial Motorcars renews its partnership with Le Mans Classic once again this summer to hold its official collectors' car auction at this amazing event. This year's sale will be held at the Le Mans circuit on Saturday 5 July 2014, and is topped by an AC Cobra that competed in the original event 50 years ago.
Artcurial considers the Le Mans Classic as one of the Blue Chip venues for a sale, and we'd struggle to disagree. For one weekend every second year, some 100,000 spectators will enjoy classic car racing over 24 hours, celebrating the circuit's legendary history. Around 450 cars and over 1000 drivers will compete in this year's event - many of whom will have come from the UK, counting a significant proportion of the 10,000 classic cars that grace the circuit's many parking areas.
This will be the seventh Le Mans Classic Artcurial will be at, and it looks set to top 2012's €8.7m bonanza. The 2014 auction will star a 1964 AC Cobra 289 (above) that returns to La Sarthe exactly 50 years after finishing 18th overall in the Le Mans 24 Hour race, driven in 1964 by gentleman racers Count Jean de Mortemart and Régis Fraissinet.
Fraissinet, heir to a dynasty of industrialists, announced to the press that he raced in order to provide a different perspective on life: 'There are those who like to play tennis and those who prefer golf. I play tennis and golf, but most of all, I prefer to race cars…' 
Matthieu Lamoure, Managing Director of Artcurial Motorcars, said: 'We are delighted to be returning to Le Mans this year after our record-breaking €30-million sale at Retromobile in February. Le Mans Classic is one of the most important historic motor racing events in the world and we will once again be adding to the occasion with a fantastic line-up of cars in the auction, starring this historic AC Cobra that finished 18th there 50 years ago.'
More at Artcurial's website.
Comments
Author

Keith Adams
Latest