Preview: RM Auctions classic sale, Monterey, 16-17 August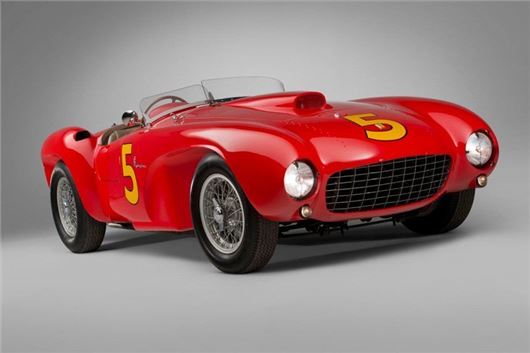 Published 29 July 2013
RM Auctions has assembled an incredible collection of cars for sale for its flagship two-day sale in Monterey, California, 16-17 August, during the world-famous Pebble Beach Concours d'Elegance motoring week - with no less than 25 cars estimated to achieve in excess of $1,000,000 each at the sale.
Leading the latest series of highlights confirmed for the sale is a 1953 Ferrari 375MM Spider (above). It was specially commissioned new by Jim Kimberly, heir to the Kimberly-Clark business empire, the car on offer is the only 375MM Spider to sport pontoon fenders, a design element specifically requested by Kimberly in order to improve brake cooling.
Chassis 0364AM was campaigned extensively by Kimberly in period and enjoyed an extraordinarily successful 1954 season, winning virtually every race and going on to secure the SCCA National Championship that year. With known-ownership history from new, the car has remained in Detroit virtually ever since, and has been in the current owner's hands since 1968. The restoration process reunited the car with engine number 0436AM, which is confirmed by the Ferrari factory to have been ordered specifically by Jim Kimberly and was intended for use as a spare by this very car.
Another significant car to go under the hammer at Monterey is the 1939 Mercedes-Benz 540K Special Roadster. This one features one-off coachwork by Sindelfingen, chassis 408383 is an incredible Art Deco masterpiece. Chassis 408383 was completed in early August 1939 for its first owners, the Horn brothers, proprietors of an exclusive boutique in Berlin, and it is believed that Rolf Horn, one of the brothers, had a major influence on its conception and design. It's fresh from its restoration, and is bound to cause significant interest on the day.
More million dollar-plus cars consigned at the RM's Monterey sale are:
1958    Lister-Jaguar 'Knobbly' Prototype             $2,500,000–$3,000,000
1960    Aston Martin  DB4 GT                                 $2,000,000–$2,700,000
1974    McLaren M16C Indianapolis                        $1,250,000–$1,750,000
1996    Ferrari 333 SP Evoluzione                           $1,250,000–$1,550,000
The Monterey sale is big business. In 2012, RM's Monterey auction, set during the Pebble Beach Concours d'Elegance week, generated a remarkable $96 million in sales and established numerous world records in the process. This year's event is set to feature yet another exclusive selection of best of category automobiles, as more than 100 blue-chip motor cars are slated for the auction podium.
Comments
Author

Keith Adams
Latest