Top 10: WRC winners between 1970-1995
The World Rally Season has kicked off in anger for 2014, and to celebrate, we've totted up the top 10 most successful sport during the glory years of 1970-1995.
The early years were marked by cars that looked like those your father drove during the week, but at the height of the Group 4 era in mid-1970s, Lancia introduced the mid-engined Stratos. That ushered the age of the rallying supercar. Audi went one better when the quattro hit the championship in 1981, proving that even though its car was large and heavy, four-wheel drive gave it an undeniable advantage.
Group B followed in 1983, and the game moved on significantly, as manufacturers weren't limited by technology - as as long as they built 200, it was almost a carte blanche. Typical of the Group B challengers were the Peugeot 205T16 and MG Metro 6R4, cars that shared almost nothing with the cars they were named after. And with up to 500bhp, they soon ended up being too fast for their own good. A series of accidents proved the point, and inevitably, Group B was banned in 1986.
The Group A cars that followed initially seemed colourless in comparison, but they soon gained a great following on the back of some fabulous battles by the likes of the Lancia Delta Integrale - which is still the most successful rally car of its era.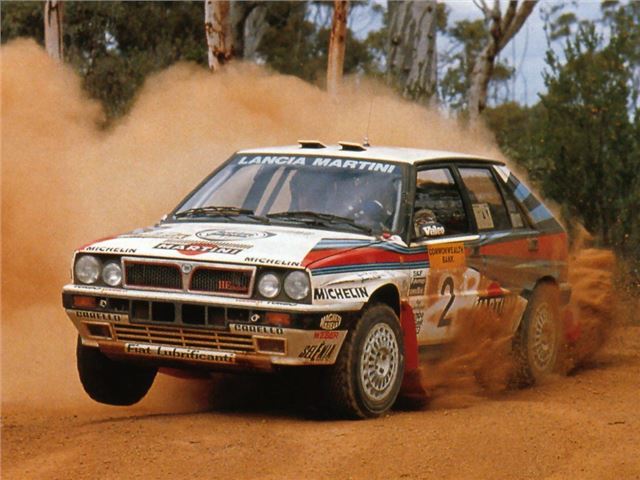 1


Lancia Delta HF Integrale
46 wins / Group A / 1987-1993
The Lancia Delta HF Integrale is comfortably the most successful WRC challenger in the classic era, although the Subaru Impreza ties with its tally of 46 overall wins. Considering its career was relatively short, and effectively run as a non-works team from 1991, the Integrale has been phenomenomally successful, winning a record run of six consecutive manufacturers' titles. It wasn't the only four-wheel drive challenger, nor was it the sole turbocharged car - but its blend of talents and gifted drivers gelled to create six years of rallying magic.
Comments