Volvo 120/130 Amazon (1955 - 1970)
Last updated 11 December 2018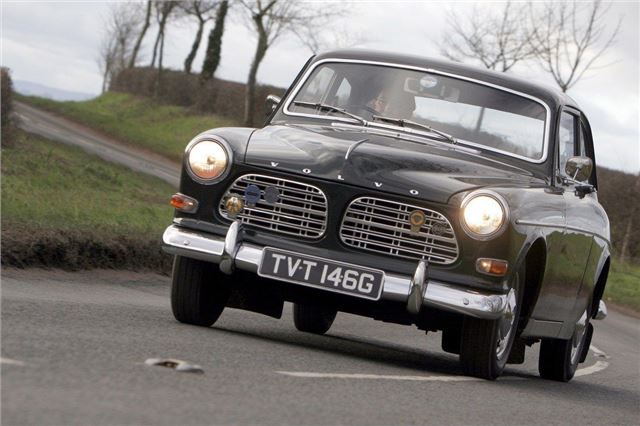 Buying Guide
Bodywork
Check for rust around the windscreen – rot here can destroy the bulkhead.
Walls of the footwell are also at risk so remove the cardboard trim and check.
Rear wheelarchs are often the first to go, but front wings and doors can also corrode as can the sills.
The spare wheel well drain can block, causing the metal to rust.
If you're looking at an estate, check the split tailgate as this can badly rot.
Check for rust in the front chassis legs, just underneath the bottom of the radiator.
The front wings can rot around the headlamps.
Engine, Gearbox & Suspension
Amazon engines are extremely long-lived – as long as they're regularly serviced.
Correct Volvo oil filters must be used as they include a non-return valve to prevent the bearings being oil starved.
Transmissions are durable – overdrive makes crusing less stressful, and less noisy.
Suspension bushes can wear.
Excessive oil use is probably down to failing piston rings.
Check for oil leaks from the front and rear crank oil seals (which are made of felt).
Differential oil seals are also made of felt and can wear.
Rock the water pump to check for leaks – also make sure the top and bottom radiator hoses aren't cracked.
 Electrics, heating and trim
Front and rear bumpers are chrome plated and repairs here are expensive.
Dash tops often wear and split in the sun.
Seats split and the webbing beneath the base cushion can sag.
New carpets are available, but some interior trim is hard to find.
Check the floor-mounted dip switch for the headlights is functioning correctly.
Heater box drainage hole can block, causing the heater core to rot.
If overdrive fails to engage, inspect the solenoid.
If the dynamo is failing to charge the battery, check the voltage regulator. Non-Bosch items can quickly wear.
 Can I run it on unleaded?
Retard the ignition by 8.5 degrees and the engine will run happily – although valve seat recession will occur eventually.
Back: Introduction
Next: Specifications