Volvo 120/130 Amazon (1955 - 1970)
Last updated 11 December 2018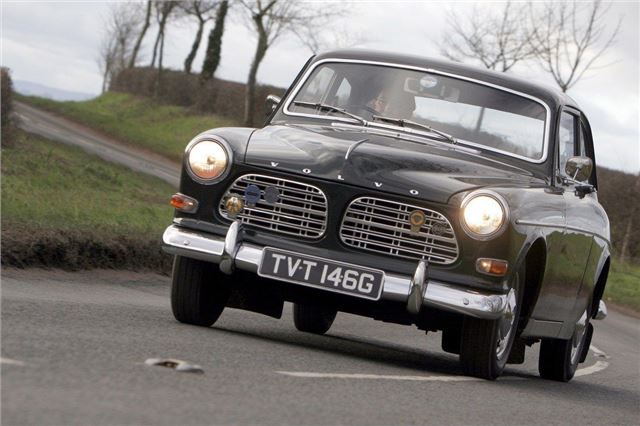 Tough as old boots, good looking, swift in sport form, an excellent all-year round classic
Heavy to drive, and a bit of an acquired taste
Introduction
Known in the UK - by enthusiasts - as the Amazon, the Volvo P120-Series still looks refreshingly modern today, although it was clearly a pastiche of the Chrysler 300. It was the car that broke Volvo into the UK market, and won many friends, thanks to being strong and reliable. The model consisted of the 121, the lower-specification four-door machine, and the 122S with more power. The two-door cars were known as the 131 and 132.
In 1961, the P130-Series replaced the P120, giving the Amazon a much-needed shot of extra power. Its new B18
engine was a fresh design, and would go on to live a very long (and successful) life. The 1778cc unit was offered in
single-carburettor form with 75 or 85bhp, twin carburettor S-tune, which boosted that to 90, 95 and 100bhp. The up-gunned B20, a bored-out version of the B18, was the final fing for the Amazon, with 2.0-litres and up to 115bhp.
The ultimate Amazon was the 123GT. Its twin-carburettor 1778cc engine came from the 1800S coupé and it had servo-assisted front disc brakes and bumper-mounted spotlamps. Inside, there was a special steering wheel and dash-mounted rev counter. Only available as a two-door, this was Volvo's favoured product for privateer rally drivers. British tuner Ruddspeed offered a package to boost power to 132bhp.
Join the club
Formed in 1962, the Volvo Owners' Club has 3000 members. It offers dedicated, expert advice to keep members' cars on the road and has helped preserve models that are still used daily. It also embraces modern Volvos and plays an important role in helping its solving the complex electronic issues modern cars can present. All Volvos are welcome, from traditional classics like the PV544 and Amazon, 1980s modern classics like the 700, and newer models like the S40, S60, V60 and XC60. The cost of joining the club is £35 (£30 membership and £5 joining fee) - but the joining fee will be waived for new members quoting HJ19.
Next: Buying Guide