Volkswagen Type 2 Kombi/Camper (Split-screen) (1949 - 1968)
Last updated 22 March 2019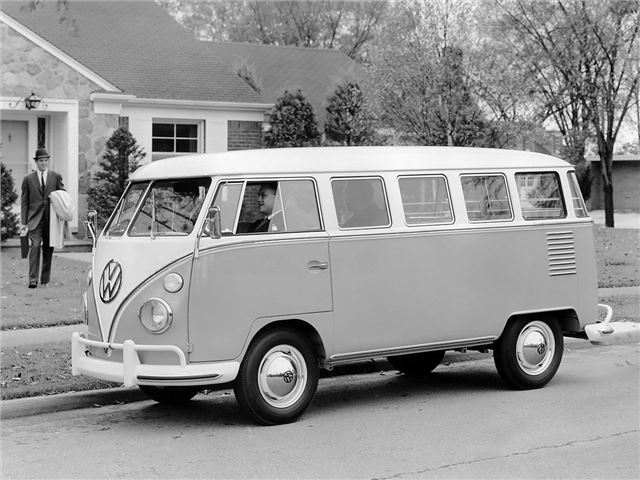 Model Timeline
January 1947
Type 2 first thoughts
Ben Pon came up with Transporter design sketches, inspired by forward control Beetle-based trucks at Volkswagen's Wolfsburg factory.
January 1949
Type 2 launched
Type 2 shown, powered by the 1131cc flat-four developing 25bhp.
January 1950
Range extended
Type 2 panel van goes on sale, quickly followed by the Kombi.
January 1951
The legendary Samba is added to the line-up
The Type 2 Volkswagen Samba bus is launched, but is otherwise known as the Microbus DeLuxe.
January 1952
Pick-up arrives.
January 1954
Type 2 gets more power
Engine capacity increased to 1192cc; power rises to 30bhp. Right-hand-drive vans now offered in the UK.
January 1958
Double-cab goes on sale
January 1959
More power and a better gearbox
Power increased to 34bhp and all-synchromesh gearbox fitted, improving the driving experience.
January 1961
A 'big' year for the Type 2
High-roof panel van added to the range, and the millionth Transporter leaves the factory.
January 1963
The 1.5-litre option added to the range
The 1497cc power unit now available at extra cost: it developed 42bhp, increasing to 44bhp in 1965.
January 1966
Electrical system gets a much-needed upgrade
Heavy Type 2 users welcome the arrival of 12-volt electrics to replace the original six-volt system.
January 1967
Split-screen model replaced by the Bay window version
All-new styling for the Type 2, with the split-screen with single-piece 'bay window'. Much-needed 1584cc flat-four engine now fitted, now developing 47bhp.
Back: Introduction
Next: Buying Guide