Volkswagen Polo Mk2 and G40 (1981 - 1995)
Last updated 29 April 2015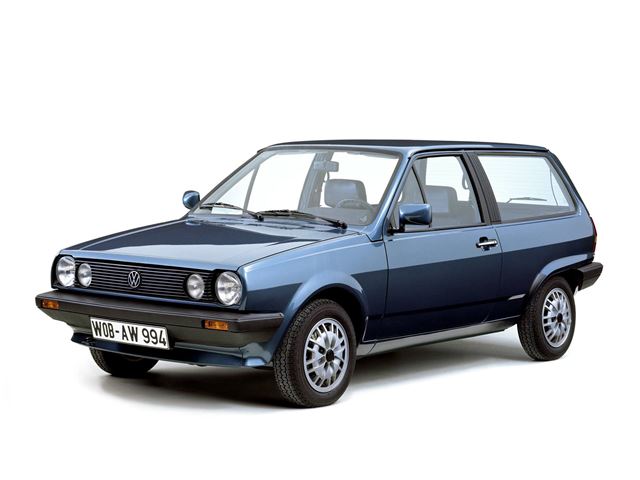 Buying Guide
Good
Reasonable build quality whether put together in Germany or Spain.
12' long by 5' 2" wide.
Extremely light weight, from just 700kg.
Steel 'factory' sunroof a desirable extra, adds £200 to price.
Bad
Weak front suspension. Not very roomy. Tiny boot. Surprisingly heavy steering. No brake servo prior to 1991 facelift.
If water pump seizes, will usually snap cambelt.
Catalysed and just 45 bhp from 1.0 litre version from 1991 model year. 
Very high 9 point death rate from accidents in this model.
Watch
Piston-slapping tiny mileage shopping cars, serviced 'every two years whether they needed it or not'. (They need an oil change every six months.)
Pre-hydraulic cam cars (pre-'86) more expensive to service.
Need cambelt changes every 36,000-40,000 miles or every 4 years, preferably tensioner too.
Sump pan can rust, especially if engine has been 'steam cleaned'. Normal for cam covers to lose their paint. Engines should look scruffy, not 'steam cleaned', because steam cleaning washes off rustproofing. A dirty engine with peeling paint on the cam cover is a good sign.
Check spec carefully. Some 1.3 CLs were 4-speed, not 5-speed and starting to get reports of gearbox failures.
Will eventually rust, so check round the edges especially the door bottoms and the front bib.
Check the petrol tank, especially at the join between the filler neck and main tank.
Check how it starts and runs from cold it should be a really smooth steady idle with little noise from the hydraulic tappets.
When it is warm it should idle nicely also. These cars can have more than their fair share of idle running problems.
Check that the heater fan does not squeal.
Polos eat front disks for breakfast, so have a good look at them.
Check around the door handles for break in damage. Thieves ram a screwdriver between handle and body to get in.
Run the car until the cooling fan kicks in and check for water leaks.
Check the gearbox for oil leaking from the gearchange input shaft, I have not seen any that dont leak yet!! If it is and you buy it, fill it up with gearbox oil ASAP. There will be hardly any oil in the box.
Check the clutch for smooth light action. Any roughness in the pedal action or noise from the release bearing could mean trouble. At this age the diaphragm will go before the friction material. The clutches are cheap and easy to change though. But the clutch mechanism (to press the release bearing to the diapragm) is expensive and a stiff pedal may mean the parts are shot.
Check the rear silencer. Although it may be modified on the newer models and not as prone to rusting.
Take the top of the air filter housing (is it a carb model?) and check for excessive oil in the filter housing. Walk away if there is. By excessive I mean a small puddle of liquid oil, not the usual congealed light coating of oil.
Check for accident damage. Realistically at that age the car is likely to have incurred some accident damage. Will be more rust in areas which have been badly repaired.
Back: Introduction
Next: Specifications
Buy a Volkswagen Polo from £3,290
Compare classic car insurance quotes and buy online. A friendly service offering access to a range of policies and benefits.

Get a quote