Volkswagen Phaeton (2002 - 2010)
Last updated 28 June 2018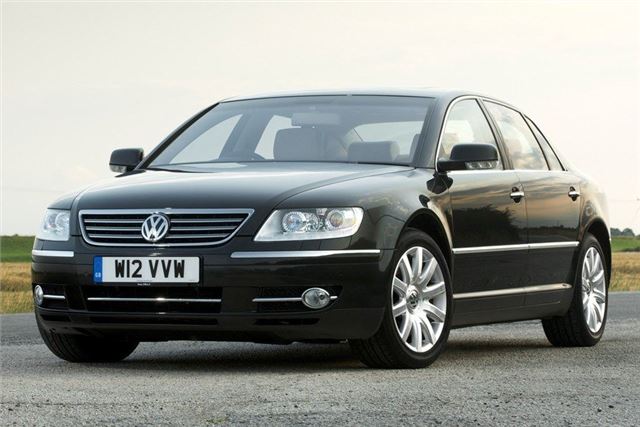 Buying Guide
Good
Well equipped, refined luxury saloon.
Ranked most secure luxury car for 2nd year running in the Luxury Car  category at the 2009 British Insurance Vehicle Security Awards (BIVSA), presented by Thatcham, the Motor Industry Repair Research Centre, in Berkshire.
Watch
One reader experienced minor trim damage and a series of electrical faults including: intermittent fault with keyless entry, navigation system failing or not working at all or showing car to be in one place when It's actually in another, automatic window lift failing, and false warning messages appearing. 
If the shock absorber goes on one corner, you'll have to replace all four and you're probably looking at a £3k bill.
Timing gear train on 5.0 V10 diesel can mangle and can be 10 hours labour just to get the engine out. Can be oil feed problems to the camshafts, eventually causing £9,000 worth of engine damages. As happeed at 4 years old and 50k miles.
30-6-2011: On V10 diesel, turbochargers can fail and replacement is an engine and transmission out job.
26-11-2011: Jacks supplied with car not up to lifting the weight of it and prone to collapse.
6-12-2012: Complaint of excessive vibration on 20,000 mile 2008 Phaeton 3.0V6 TDI. Vibration affects the steering wheel, pedals and front seats.
31-5-2015: Reader who bought a V6 Phaeton wondering why it was so cheap soon found out: After stopping to refuel having driven 40 miles, the car would not start. The RAC confirmed that they couldn't start it with jump leads (all other battery indications were good), starter still not turning over. So, after a 6 hour wait it was recovered to a German Car specialist in Cambridge. When they opened for business after the BH they diagnosed TWO dead batteries (the Phaeton has two), despite being told that one would probably be flat after having the radio on while waiting 6 hours to be towed away. An initial quote of £700 for the diagnosis and replacement was offered. One day later the quote was reduced to a mere £520 for both batteries. On querying that a specialist supplier could get one for less than £100 the reader was told was told that it MUST be OM and that the pair were matched and had to be reprogrammed to each other.
11-12-2017: Link giving battery charging instructions for all Phaetons: http://forums.vwvortex.com/showthread.php?5601569-Battery-replacement-procedure 
Back: Driving
Compare classic car insurance quotes and buy online. A friendly service offering access to a range of policies and benefits.

Get a quote