Volkswagen Lupo (1999 - 2004)
Last updated 11 July 2017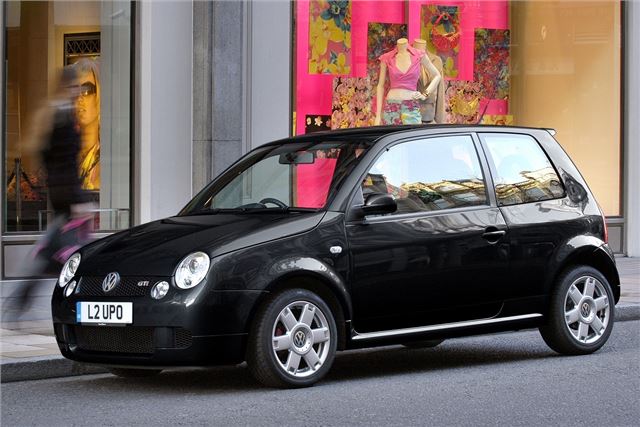 Buying Guide
Good
Quick for what is.
Economical.
Easy to park and quite refined.
Lupo did well in German TUV/Auto Bild front offset crash test. 

Four-Star NCAP crash safety rating.
VWs generally had below average warranty repair costs in 2003 Warranty Direct Reliability index (index 76.83 v/s lowest 31.93).
Bad
Prices higher than Seat Arosa. Power steering a £450 option on 1.0 litre base model. 1.0 litre horribly, painfully slow.
Problem of breather pipes failing on 1.0 and 1.4S models built in 2001. Below minus 8 degrees centigrade, condensation in sumps of 1.0 and 1.4 engines emulsifies and blocks crankcase breather pipe leading to lack of engine lubrication and engine failure. VW modified the part. 

Plastic timing belt tensioners of 1.4 16v engines now failing regularly, though fortunately the belts are rarely flung off when this happens. VW now recommends a change every 4 years or 60,000 miles, whichever coems first. 
Watch

Problems with 4-speed automatic transmission. 

Quite common for doors to drop on their pins.
11-5-2013: From Kyle Fortune's Used Buying Guide in Autocar 1-5-2013:
Wide doors can drop on their hinges.
On the Lupo 1.6GTI 16v look for blue smoke from the exhaust that could signify blocked crankshaft breathers or failing valve stem oil seals.
Rear spoiler can develop paint problems.
Electric windows can stick.
Neither 5-speed nor 6-speed manual gearboxes are strong and casn suffer wear on their selector rods.
A full set of nylon suspension bushes is a worthwhile modification.
Recalls
June 2002: 120,000 Polos, Lupos and Arosas built during 1998 and 1999 recalled because cracks in the brake vacuum pipe could lead to loss of servo assistance to the brakes. Recall hotline: 0800 711811. (Official 6-7-2002: 121,281 Polos and Lupos recalled because tension cracks in vacuum pipe to brake servo may occur. Pipes to be checked and replaced if necessary.) 3-3-05 on LUPO,POLO,GOLF,BORA, TOURAN,NEW BEETLE,PASSAT AND SHARAN (WITH 2 PUMP INJECTOR ENGINE) built 1-3-04 to 31-8-04 bolts on tandem fuel pump may break.
Back: Driving
Compare classic car insurance quotes and buy online. A friendly service offering access to a range of policies and benefits.

Get a quote