Volkswagen Jetta (1984 - 1992)
Last updated 29 April 2015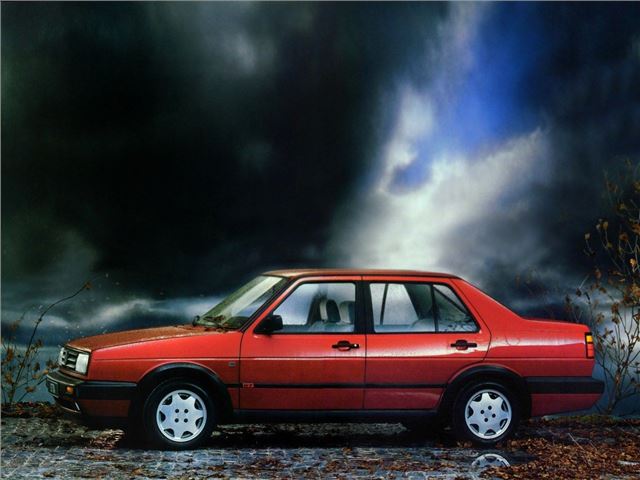 Buying Guide
Good
Based on Golf but handles better and rattles less.
139bhp 16v is very quick.
Cheap to buy
Bad
Needs a cambelt change every four years or 40,000 miles and a tensioner change every 80,000 miles.
Make sure heater matrix bypass has been installed (major recall 1995-97).
Watch
When was timing belt last changed (needs a belt every 4 years or 40k and a tensioner every 80k).
Check oil filler cap for black sludge (oil not changed regularly enough) or mayonnaise (cylinder head gasket problems).
Check driveshafts by reversing car on full lock in both directions.
Easily clocked so look for signs of more miles than the odo shows.
Rear discs rust first, become pitted and fail MOT.
Clutches last 70,000-80,000 miles on average, less with town driving. But clutch cable self-adjusters go, leading to premature clutch wear.
Plastic door membranes go, leading to soggy carpets and horrible condensation inside the car in winter.
Water pumps, clutches, front strut top bearings, etc. have only average life.
Hubs go in 8-12 years (80,000-120,000 miles).
Underfloor fuel pump on fuel-injected cars springs a leak after 9-10 years.
Water pumps last 5-10 years.
Radiators last 5-10 years.
Rear disc callipers on GTi can go and cost £300 each.
Pneumatic central locking starts to fail on rear doors after 11 years. Steel wheels can fleck with rust after 6 years. Getting old.
Driver's seat upholstery should last 12 years and 100,000 miles before starting to wear through.
Bonnet slam panel should be matt black, not body colour.
After 12 years, cam cover of all but 16v should have lost almost all its paint unless owned by someone particularly fastidious. Engines should look scruffy, not 'steam cleaned', because steam cleaning washes off rustproofing.
Look for a square white sticker showing the vehicle identification number on the inside of the boot sill. No sticker is a sure sign that the car has been rear-ended.
Went hydraulic tappets in 1986: cheaper to service.
Rusts first on top of scuttle between screen and bonnet. Strut top mounts routinely go and are an MOT failure point. You can tell by jacking up the front of the car if you get the chance (the strut drops out).
Recalls
1995 (1.6 & 1.8 1983A to 1989G): bypass valve to be inserted into heater pipe; heater matrix to be replaced if degraded.
1996 (1.3 1983A to 1989G): bypass valve to be inserted into heater pipe; heater matrix to be replaced if degraded.
Back: Model Timeline