Volkswagen Jetta (1984 - 1992)
Last updated 29 April 2015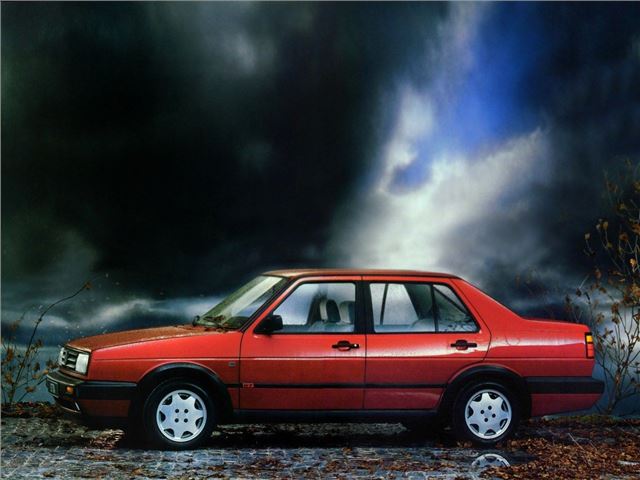 Based on Golf but handles better and rattles less, 139bhp GTi 16v is very quick, still relatively cheap to buy
Lacks image and hatchback of a Golf, rust and other age-related problems are taking a hold now, but still much stronger than equivalent products from Ford and Vauxhall
1984: second generation Volkswagen Jetta Underrated 'Golf with a rucksack'. Stiffer body so handles better than a Golf with fewer rattles. 14' 2" long by 5' 5" wide. Weighed from an amazingly...
Introduction
The Volkswagen Jetta was based on the second generation Golf, and was launched months after the original. Like the original 1979-'83 Jetta, this second car was effectively a three-box Golf with rectangular, rather than, round, headlamps - but the improvments that this car benefited came from the massive strides in build quality, aerodynamics, ergonomics, accommodation and engine range associated with the Mk2. As before, the boot was huge, although you wouldn't believe so given that length of the Jetta was a mere 10cm longer than the Golf. Available in two- and four-door form, although only the latter was sold new in the UK.
In the UK, where saloons are traditionally less popular than their hatchback bretheren, the Jetta wasn't a stellar seller, but it did prove popular to small families. Model range mirrored that of the Golf Mk2, spanning 1.3- to 1.8-litres, with the 1.8GL with 90bhp and the GTI and GTI 16V finding plenty of buyers. With 139bhp, the 16V was a quick and capable performance saloon, with a 0-60mph time of around 7.5 seconds. Retangular headlamps fitted to the Jetta were a popular retro-fit to Golfs by owners who wanted to make their cars look different. Like most Volkswagens of the era, the Jetta is now a firmly established member of the scene, with a growing following with younger drivers.
Next: Model Timeline