Volkswagen Golf Mk3 (1992 - 1997)
Last updated 24 August 2017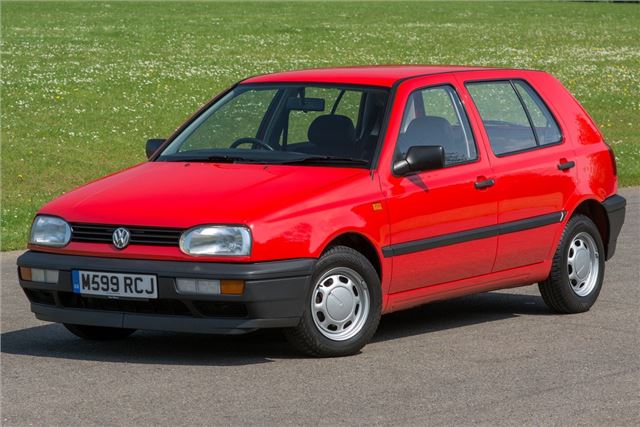 Buying Guide
Good
VWs generally had below average warranty repair costs in 2003 Warranty Direct Reliability index (index 76.83 v/s lowest 31.93). 1995-1997 petrol models had fewest problems, average for breakdowns and faults; 1995-1997 diesels average for breakdowns, problems and faults in 2003 Which survey.
Bad
Strong image not justified.
Three-door models flex quite badly (five-door models are better). 

Handling and roadholding not brilliant by 90s standards. 

Though car may remain solid and rust-free, many replacement parts will be needed over 10-year life. 

More than its fair share of recalls.
Watch
Premature clutch wear due to faulty self-adjusting cable. 

Oil-burning TDI engines. 

Clocking (see Golf II). 

Reports of wiring faults in electric window circuits, lights, rear window demister, so check all electrics carefully before buying (see recalls). 

Stretched timing chains on VR6s and chains actually breaking at around 90,000 miles. The other VR6 problem is failure of the huge head gasket that covers both banks of the narrow angle V6. Often coolant gets into one or more of the bores, leading to over leaning of the mixture and burning out of the piston crowns.

On 5-door models, look for rust on the hinge face of the rear door frames. Also rust under joint in sealing strip on sill under rear doors. 

Rear end skittishness is caused by failure of rear axle bushes which cost £12.75 a side from German & Swedish www.gsfcarparts.com. 

Power loss on TDI 90s over 3,000rpm can be cured by replacing a thin hose that runs from the exhaust, near the turbo, to the ECU. Cutting out on 1996 - 1998 petrol and diesel Passats and Golfs may be due to relay marked "109" in the fuseboard. The heat from the relay coil may be causing small cracks to open on the relay printed circuit board. Plug-in replacement costs about £12. 

4-speed autobox can have problems. Since VW dealers charge £4,000 for a new one, this is best sorted by an independent specialist. Often no more than an oil control valve. 

Brake regulator needs to be removed to fit and the bolts always shear off so need to be obtained separately from a VW dealer. Look for rust holes under joint in sealing strip on sills under rear doors. Also look for rust around the hinge areas of the doors. 

Plastic wheelarch trims retain moisture and may (and often do) conceal seriously corroded wheelarches.
Recalls
1995 (Golf GTi, 16v, VR6, Convertible: VIN 1HPW 439315 to 1HSW 418237 and 1ERK 000001 to 1ESK 025159): headlamp failures. Headlight switch on RHD models can overheat, leading to headlight failure. 28,000 cars affected.
1996: (1993-95 build): cooling fan motor may seize. 1997 (single headlight models).
January 1997 recall for headlight failure. Headlight switch on RHD models can overheat, leading to headlight failure. 9,700 cars affected.
1997 (1994-97 build): September 1997 recall for headlamp modification for all cars. Total 150,000 cars affected. 1997 (1991-94 models with electric front windows: 16,000 cars): insulation on power cable may chafe and short-circuit. Needs protective shield in cable opening of door.
1997 (Aug '93-Jan '97 build): engine wiring loom may overheat.
Back: Model Timeline
Buy a Volkswagen Golf from £3,500