Toyota Sera (1990 - 1995)
Last updated 10 January 2014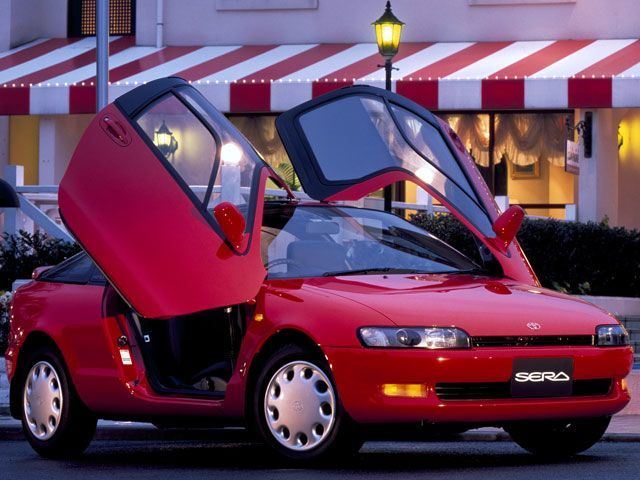 Tidy-looking coupe with butterfly doors. Mechanically very similar to the Paseo and Starlet with typically solid Toyota build quality.
Some parts can be hard to find, though Toyota are generally helpful where possible. Doors require frequent maintenance.
1990
Nice looking Starlet-based Japanese market 2+2 coupe with unusual gullwing doors. 1,496cc twin cam 16 valve engine developing 108bhp at 6,400rpm and 98 lb ft torque at 5,200rpm. Aircon standard. Most...
Introduction
Previewed in 1988 as the AXV-II concept, the Sera blends exotic styling with reliable, economical running gear. Dihedral, or butterfly, doors hinged at the top of the A-pillar  and centre of the header rail incorporate wrap-around glass for a light, panoramic interior and great access in tight spaces.
The 1.5 16v four-cylinder engine is similar to that used in the Paseo, and both 5 speed manual and automatic transmissions were offered. Performance is adequate rather than sporting, and a popular conversion is to fit the running gear from the EP92 Starlet GT. A popular grey import for the UK, the Sera was produced in three Phases, with the last models identifiable by the high-level brakelight.
Next: Model Timeline