Toyota Corolla AE86 (1983 - 1987)
Last updated 19 September 2013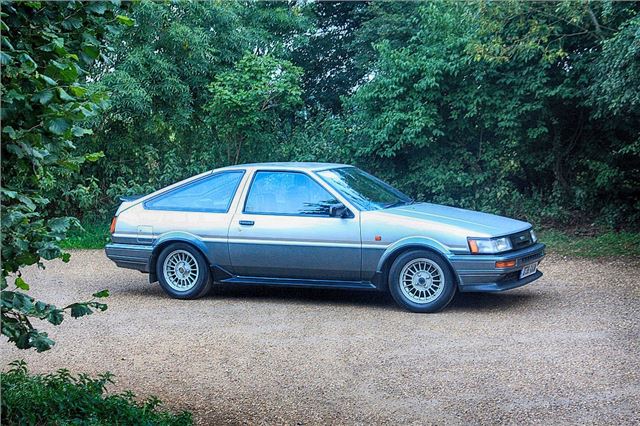 Ordinarily, the Toyota Corolla GT should have been a prime candidate for classic obscurity in the UK. But thanks to notoriety in the Playstation game Gran Turismo and an uncanny ability to giant-kill in club rallying, the GT Coupe, now univerally known by its code name AE86, has become something of a cult classic.

But is it as good as its reputation would have you believe? We give Toyota GB's cherished 39,000-miler the full HJClassics road test treatment to find out.
---
Classic road test: Toyota Corolla GT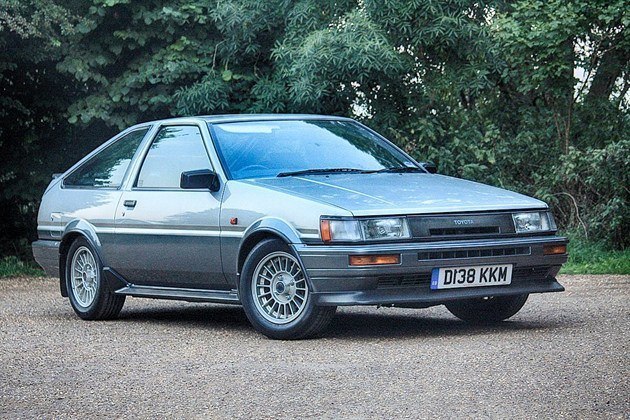 In 1983, Toyota was undergoing something of a transformation in Europe. The once painfully conservative manufacturer that had established a fearsome reputation for reliability and quality, via a range of conventionally-engineered cars, was advancing quickly. Its first car front wheel drive car, the 1978 Tercel, didn't make it to the UK, but the the '83 Corolla E80 did - and in one fell swoop, the mighty Japanese company had caught up with the mainstream opposition.
Except there was a glorious anomaly. When rolling out its new front-wheel drive Corolla range in the UK, Toyota topped the range with the rear-wheel drive GT. Priced at £6995, which was slap bang in the midst of the Coupe market, epitomised by the Opel Manta, Volkswagen Scirocco and Alfa Romeo Sprint, the angular Toyota was going to have its work cut-out. But the Japanese car was a fresh face in an ageing market, and despite being underpinned by what was seemingly a unfashionable mechanical layout in 1983, there was no denying the GT looked like it was going to be a lot of fun indeed.
And so it proved - and although the contemporary road tests bemoaned the GT for its revvy, frantic nature, it earned top marks for its excellent performance and good old fashioned driving dynamics.
But more curiously, the cult of the AE86 would end up building up through the 1990s, and into the '00s. An undoubted factor in the car's fame now is the seminal driving game franchise, Gran Turismo. Launched in 1997, there had been no game like it beforehand, and principal in its appeal was the sheer variety of cars available, the ability to tune them, player budgets, and prizes for great driving. As one of the entry level - and highly tuneable - cars in the game, lots of young gamers became intimately familiar with every facet of this car's digital cousin.
Then there was the Japanese drift culture manga comic, anime cartoon, and film Initial D. It centred on the cult of illegal mountain racing, and the hero of the series Takumi Fujiwara drives a Sprinter Trueno - effectively a Corolla GT with pop-up headlights, that's also known colloqually as the AE86... It has been a huge smash in Japan, and is gaining a following internationally.
Fast forward 15 years, and along with those video game appearances, it's had the effect of making these cars a super-cool proposition - with a predictable effect on their market values today.
About the Toyota Corolla GT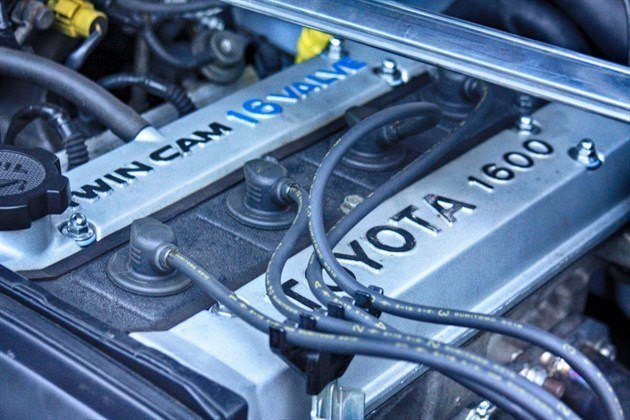 A mere 2717 Corolla GTs were sold in the UK between 1983 and '87, which in the context of the crowded market it competed in, is small potatoes indeed. But what was fringe then, is the new cult. And thanks to rising values and a great reputation, the remaining GTs are revered, while continuing to be joined by cars imported from Japan.
The underpinnings of the AE86 are quite conventional - almost backwards - for their time. Front-engine, rear-wheel drive, in-line engine, five-speed 'box, struts up-front and an old-school live rear axle tailing it off. Nothing to get excited about at all. In terms of styling, it's angular, but with very neat detailing, such as clamshell doors, a lack of rain guttering, and integrated front and rear lamp clusters and bumpers. If that all sounds a little basic, this was still quite big news for Japanese market cars, many of which were still a little hung-over from the 1970s.
Today it's a neat and unassuming looking car, which doesn't attract much attention from passers-by. Unless of course, they're proper car enthusiasts.
Heart of the Corolla GT is its brilliant 4AGE power unit. It's a revvy little thing, that was also shared with the W10 generation MR2 and three-door Corolla GTi-16 hot hatch. Certain overseas Celicas were also powered by the 122bhp 1.6-litre - and all shared the GT's boistrous nature and sky-high rev limit. It was a clever engine, boasting double overhead cams and 16 valves, and a twin-tract intake system for additional punch above 4500rpm. It's sprint-geared, so motorway cruising sees you driving at the legal limit at pushing 4000rpm in fifth.
The interior is a rhapsody in blue velour and plastic. The dashboard looks angular, and the plastics are hard and brittle - but the essentials are spot on. The instruments are nicely calibrated and look good, while the minor controls - wipers and lights - are operated by large, friendly rotary switches mounted highly on the instrument binnacle. It's functional, and workmanlike. And very '80s.
Toyota's example's been modified, though. As so many have been. It might be a low-mileage and nicely original, but the tubular manifold and sports exhaust system, as well as lowered suspension and strut brace mean that performance and dynamics are far from standard.
On the road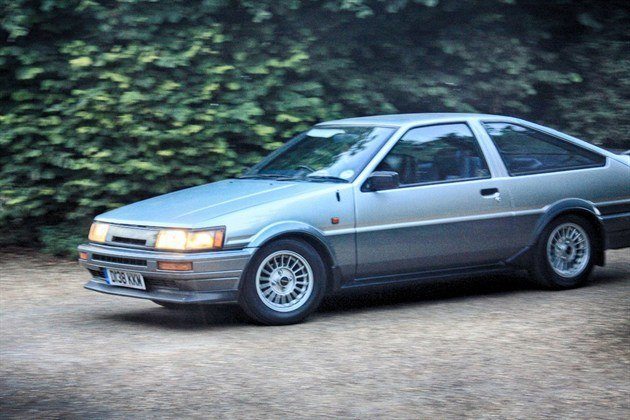 First thing's first, you don't buy an AE86 for all-out performance, When Autocar tested the GT in early 1984, it posted a 0-60mph time of 8.6 seonds and a maximum speed of 118mph (slightly shy of Toyota's claimed 8.3 seconds and 122mph). These were competitive for the time, and up with rivals such as the Opel Manta GTE and Honda CRX, but as a £10,000-plus classic car, you can certainly buy much quicker for your money.
Firing it up, the Corolla GT springs into life, sounds willing and has effervescent throttle response. Setting off, it certainly feels lively, and bounds away from the lights with real vigour. Once warmed through, you can rev it through to 7000rpm without histrionics, passing 60mph in second as you go, As the spec-sheet promises, there's a noticeable stop up in power beyond 4500rpm - encouraging you to drive it hard. 
As well as the hair-trigger throttle response, that free-flowing exhaust system and induction kit bestow the GT with a superb soundtrack. It sounds purposeful at low revs, but once that magical 4500rpm barrier passes, it takes on an altogether more animal character, adopting a hard edged yowl that you'll want to hear again and again.
But the GT's legend was founded on its handling, not its performance. And we're glad to report that it lives up to the reputation. Its brilliance starts with the basics - a great driving position, which matches all major controls to perfection. The driver's relationship between the upright steering wheel, gearstick and pedals is impeccable, while the visibility really is excellent. The steering is accurate, and despite lacking power assistance,is relatively light and gives beautiful road feel.
And as expected, the GT comes to life once you're on your favourite B-road. Bumpy roads are a lively affair thanks to short springs and firm dampers, but going through the gears is an absolute joy, kissing to redline, slotting the next ratio, and changing up into the heart of the power band in the next ratio. Going down is even more pleasurable, thanks to perfectly placed pedals and zingy engine response, which positively encourages heel-and-toe changes.
Corners are a rare treat, too. You turn-in, point, squirt and enjoy, The GT takes fast bends in an teerly planted and stable manner, while, shaper, slower, ones can be taken with nonchalent ease. You turn-in, rely in the grippy front-end to get the nose into the apex, and as you sight the apex, floor the throttle.
In a low gear and with ample revs, you'll inevitably end up unsticking the rear end. But unlike many 1980s cars, where such shenanigans were dialled-out by the development engineers long before customers even came to a car, the GT is progressive, and easily controlled. And if you're so inclined, and have enough space, you'll positively enjoy cornering, while looking through the side windows.
In fact, you'll find yourself grinning or laughing most of the time.
The HJClassics verdict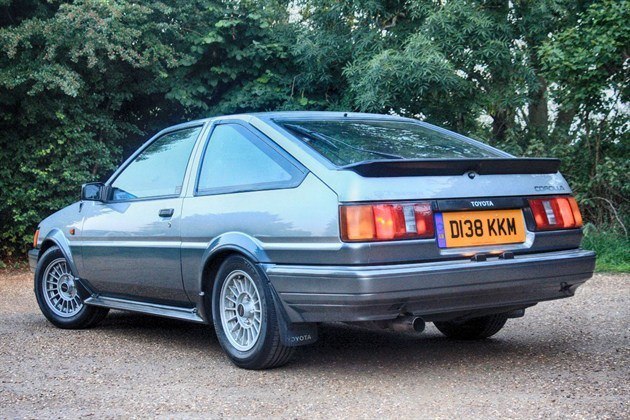 The Toyota Corolla GT is one the most recognisable Japanese classic cars of its generation - perhaps of all time - and has built-up an enviable reputation thanks to becoming something of a cultural phenomenon. But is the Corolla GT's fame built up on a huge quantity of hype?
In a word, no. It's a great driver's car that can put a smile on the face of the most miserable of souls. And committed drivers will absolutely adore the way the GT takes corners, and buzzes up and down the gears. Being a Toyota of this era, it's going to be fundamentally reliable, but the bodywork's resistance to corrosion would be a worry. However, with values now north of £10,000, it's worth spending the money repairing - as many existing owners have already discovered. So, the chances of finding a rusty Corolla GT are getting slimmer by the day.
But forget that right now. The Corolla GT might be a cultural icon, especially for 20- and 30-somethings, but it's also very satisfying to own, capable of delivering bags of fun every time you drive it. It has a lot going for it - you as an owner will catch knowing nods from other aficionados, while the rest of the world fails to give you a second glance. That has to beat being challenged to a race every time you pull up at a set of lights in your Capri Injection.
Buy now, enjoy, and live the anime dream...
Back: Introduction
Next: Buying Guide
Buy a Toyota Corolla from £2,195
Compare classic car insurance quotes and buy online. A friendly service offering access to a range of policies and benefits.

Get a quote