Toyota Celica (2000 - 2007)
Last updated 19 November 2017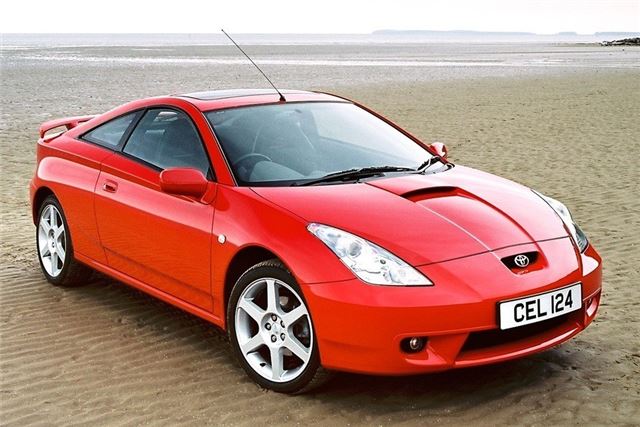 Buying Guide
Good
Probably the best handling front wheel drive car you can buy, and the extra 52 bhp of the 190 T-Sport makes it better still. By far the best 2.0 litre coupe of its day. Highly recommended.
Best to join the Toyota Celica Club
BMW, Toyota and Ford jointly suffered the fewest breakdowns attended by German ADAC during 2001.
9th from top for reliability in Auto Express 2002 survey.
13th equal from Top in 144 car 2002 JD Power / What Car? Customer Satisfaction Survey of V and W reg cars.
Joint 2nd top make in 2002 'Which?' reliability survey cars 2000 - 2002; 3rd for cars 1997 - 1999.
Insurance groups for 2003 models fell to 13E for 140 and 15E for T Sport.
Top sports coupe, 34th overall in 2003 What Car? J.D. Power Customer Satisfaction Survey.
100% breakdown free in 2003 Which survey.
Toyota generally 10th lowest average warranty repair costs in 2003 Warranty Direct Reliability index (index 74.95 v/s lowest 31.93) www.reliabilityindex.co.uk
Fewest breakdowns, average problems and faults in 2003 Which survey.
7th top car out of 137 in 2003 Top Gear survey.
2000-2006 Celica 3rd equal most reliable car in 2007 Warranty Direct Reliability Survey with 6 faults per 100 cars.
Bad
Not much leg or head room in the back.
Sequential four-speed auto originally shown at Motor Shows did not come to the UK.
Watch
Grey imports not to UK spec. VVT-i engines can start to use up to a litre of oil every 600 miles after 40,000 miles. 

That lovely dark metallic blue chips easily. 

Brake discs very prone to rusting on inner sides.
Can have an oil consumption problem, same as MR2 1.8.
No UK market automatics. All autos in the UK are grey independent imports,and idependent imports do not have the rust protection of UK market Celicas.
Radios fail: volume fluctuates and/or screen fades. Only option is a new radio.
Check brake master cylinder for leaks.
Check engine sump pan for corrosion and leaks.
19-11-2017: 2003 Celica failed MoT due to rusted rear subframe.
Recalls
12-3-2003: VINs JTDDR38T#00133333 to JTDDR38T#00151427 and JTDDY38T#00059144 to JTDDY38T#00064700: Check valve in fuel tank inlet that prevents reverse fuel flow is incorrectly fitted on some Celicas. This could case fuel to spill out when the cap is opened if there is high internal pressure in the fuel tank. Remedy: correctly fit the check valve or, if necessary, replace the fuel tank and check valve.
May 2006: Toyota Service Bulletin issued concerning oil consumption problem of 1.8 VVT-I engines built up to July 2005. Affected models are Celica ZZT230.
Back: Model Timeline
Buy a Toyota Celica from £3,500
Compare classic car insurance quotes and buy online. A friendly service offering access to a range of policies and benefits.

Get a quote