Toyota Celica (1993 - 1999)
Last updated 5 October 2013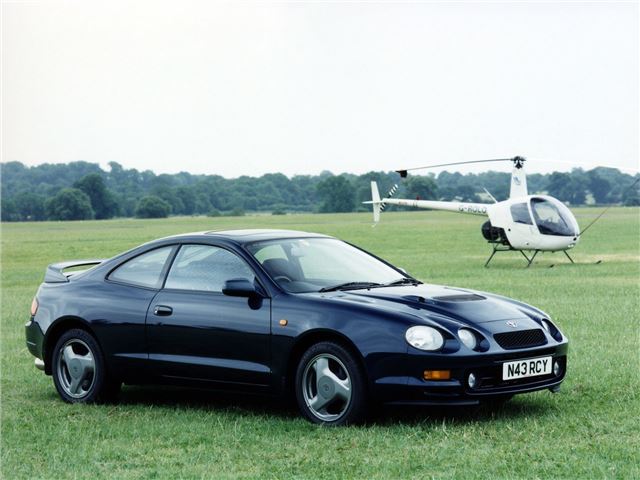 Buying Guide
Good
Very good-looking car, especially the convertible.
GT-Four has 239bhp. Front-drive GT has 173 bhp. Cut-price 1.8ST much slower with just 114bhp, but this is enough for cruiser types.
Good seating position and good steering. Typical Toyota reliability.
12th from top in 'R' reg J.D. Power Customer Satisfaction Survey. In June 2001 Toyota was rated by Motor Warranty Direct as Britain's 3rd most claim-free used marque. BMW, Toyota and Ford jointly suffered the fewest breakdowns attended by German ADAC during 2001. 9th from top for reliability in Auto Express 2002 survey. 13th equal from Top in 144 car 2002 JD Power / What Car? Customer Satisfaction Survey of V and W reg cars. Toyota had fourth lowest average cost in warranty claims for cars up to 10 years old in 2002 Warranty Direct index. Joint 2nd top make in 2002 'Which?' reliability survey cars 2000 - 2002; 3rd for cars 1997 - 1999. Toyota generally 10th lowest average warranty repair costs in 2003 Warranty Direct Reliability index (index 74.95 v/s lowest 31.93) Link:- www.reliabilityindex.co.uk
Bad
Strange set of gear ratios and generally a softer car than the previous Celica.
Doesn't handle or hold the road as well.
Watch
GT-Four may follow in footsteps of old model and break its gearbox. Must have specialist service history (from Toyota or Japanese performance car specialists such as Intech or Protech)
All need six-monthly oil changes, preferably using fully synthetic oil.
Watch out for used RHD imports from Japan brought in at half the UK price. May not be fully up to UK spec.
Watch out for 1.8s disguised as 2.0s.
Back: Introduction
Next: Running
Buy a Toyota Celica from £2,750
Compare classic car insurance quotes and buy online. A friendly service offering access to a range of policies and benefits.

Get a quote