Sunbeam Rapier Series I-V (1955 - 1967)
Last updated 25 August 2013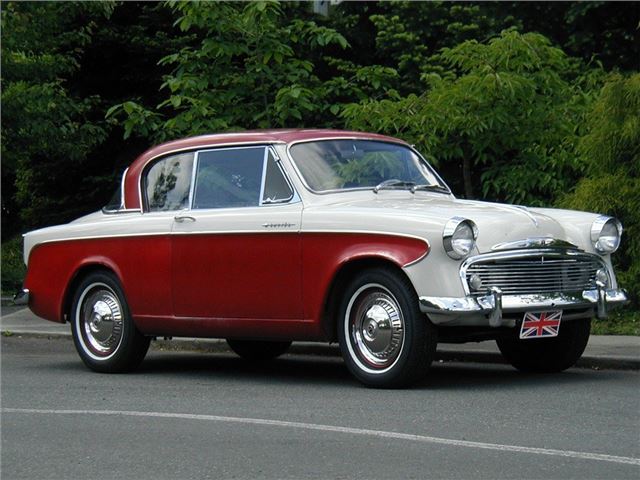 An appealing mix of solid Rootes underpinnings and Sunbeam glamour
In the cold light of day, it is just a two-door Hillman Minx
Introduction
The first of the Sunbeam Rapiers was launched in 1955, as a four-seater sports saloon despite becoming more widely known as a tuned two-door Hillman Minx. The Rapier was a typically intelligent creation plucked from the Rootes Group parts bin – and sold in large numbers as a result. The Rapier closely resembled the Minx, and featured its coil spring and wishbone front suspension and overhead-valve 1390cc engine, although the gearbox and standard overdrive were based on the unit seen in the Humber Hawk.
The Series II version received a more powerful 1494cc a new floor-mounted gearchange along with minor steering and suspension changes to sharpen it up. The Series III arrived in 1959, and featured plenty of crossover between the existing Rapier and the then new Alpine sportscar. An alloy cylinder head, front disc brakes and closer-ratio gears improved the car, but in 1961, further tweaking resulted in the Series IIIa was unveiled. This was powered by a 1592cc engine but featured no other changes – because these were reserved for the final version, the Series IV, which arrived in 1963. Other than minor styling differences, the changes were smaller wheels, a tweaked interior and an all-synchromesh gearbox.
Compare classic car insurance quotes and buy online. A friendly service offering access to a range of policies and benefits.

Get a quote