Subaru Legacy and Legacy Turbo (1989 - 1994)
Last updated 7 November 2013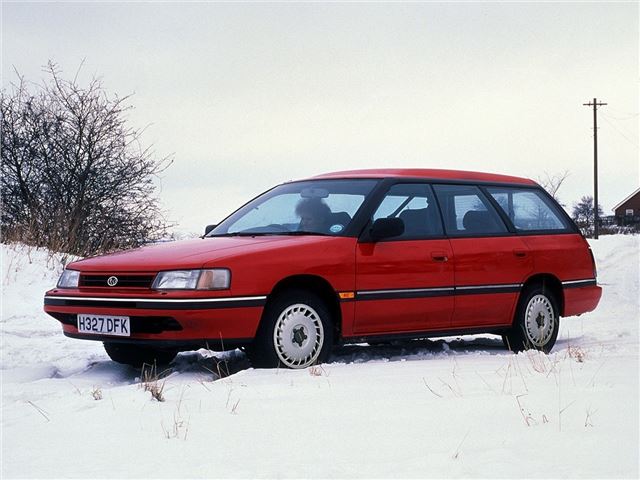 Buying Guide
Good
The most sensible large country estate car you could buy in its day. Spacious, strong and reasonably economical (25-28 mpg). Clever 'hillholder' brake system. Low transmission range very useful for crawling along in a traffic jam. Avoid the 2.0DL or 2.0DLSE (Feb 92-April 94) which has only part-time four-wheel drive and lower rear roof line.
American-built Legacy from December 1998 has revised floorpan with less suspension intrusion into load area.
Did very well in USA Insurance Industry offset crash tests.
2.0 litre flat fours apparently non interference if the timing belt snaps.
Turbo nicknamed in the trade the Subaru 'Lunacy', with 197bhp four cam flat four turbo engine these are very quick yet full five-seaters and the estate is a full-size estate car.
Legacy Turbos were winning rallies before the Impreza came onto the scene.
Bad
Spartan interior. Frameless side windows. Propensity to score rear discs. Cheap, old shape 'Classic' models dropped from line-up in autumn 1999 and new models were £2,000 dearer.
They do get crashed.
Getting very old now for a petrol turbo.
Watch
Have been known to sit around on dockside compounds for years before finding buyers, so registration date may be 18 months later than build date.
Always check the rear discs for scoring.
If it has a tow-hook, check whether it's been pulling a single or a double horsebox.
Use a torch to peer underneath just in case it's been up a rough track and suffered serious damage from a rock.
Mk Is from 1989-94 are very old now. Second or third owner may have skimped maintenance and used it for hauling animals.
Have a good look under load area carpeting for dents.
If the car has seat covers, take them off - a dog may have eaten the seats.
EJ20 two litre Subaru engines (and some others) developed a bad reputation for premature big end bearing failure. Subaru claimed that the problem was lack of maintenance, but a number of cases where the buyer was careful and thorough and it still occurred. The problem is worst on the twin turbo versions: these engines are equipped with the short skirt pistons which also wear badly. The symptom of the big end problem is a distinct knocking when you start the car from cold and the symptom of the piston wear is a rattle when cold. The above two problems seem to strike at around 100,000 miles.
Accident damage. Twisted shell. Suspension and or steering damage from 'falling off the road'.
Smoke from exhaust could mean turbo oil seals have gone.
Obviously quite a few were brought in as used imports from Japan.
Back: Introduction
Compare classic car insurance quotes and buy online. A friendly service offering access to a range of policies and benefits.

Get a quote