Subaru Legacy/Outback (1994 - 1999)
Last updated 12 July 2017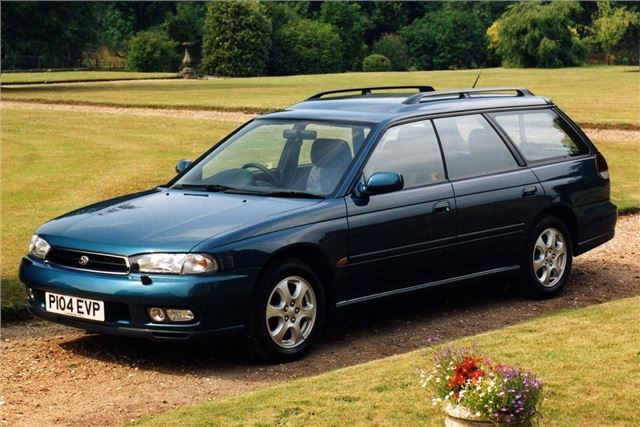 Buying Guide
Good
Came top in J.D. Power 'R' reg Customer Satisfaction Survey. 13th equal from Top in 144 car 2002 JD Power / What Car? Customer Satisfaction Survey of V and W reg cars. 12th overall in 2003 What Car? J.D. Power Customer Satisfaction Survey. 1995-2000 models had average breakdowns, problems and faults in 2003 Which survey. 10th top car out of 137 in 2003 Top Gear survey.
2.0 litre flat fours apparently non interference if the timing belt snaps.
Bad
Spartan interior. Frameless side windows. Propensity to score rear discs. Cheap, old shape 'Classic' models dropped from line-up in autumn 1999 and new models were £2,000 dearer.
Used prices rose strongly after J.D. Power result. Yet Subarus had second highest warranty repair costs in 2003 Warranty Direct Reliability index (index 217.72 v/s lowest 31.93) due to the high cost of individual repairs.
Subaru 3rd bottom of Reliability Index for 2004 combining very high average cost of repair of £993.58 with low 19.82 failures per 100 Warranty Direct policies. Link:- www.reliabilityindex.co.uk
Watch
Have been known to sit around on dockside compounds for years before finding buyers, so registration date may be 18 months later than build date.
Always check the rear discs for scoring.
If it has a tow-hook, check whether it's been pulling a single or a double horsebox.
Use a torch to peer underneath just in case it's been up a rough track and suffered serious damage from a rock.
Have a good look under load area carpeting for dents.
If the car has seat covers, take them off - a dog may have eaten the seats.
Cars fitted by the importer with SIGMA immobilisers are vulnerable to radio waves emitted by TETRA AIRWAVE security services communications masts and require new shielded SIGMA immobilisers.
EJ20 two litre Subaru engines (and some others) developed a bad reputation for premature big end bearing failure. Subaru claimed that the problem was lack of maintenance, but a number of cases where the buyer was careful and thorough and it still occurred. The problem is worst on the twin turbo versions: these engines are equipped with the short skirt pistons which also wear badly. The symptom of the big end problem is a distinct knocking when you start the car from cold and the symptom of the piston wear is a rattle when cold. The above two problems seem to strike at around 100,000 miles.
Steering angle sensors fail, bringing up the 'ABS/VDC' warning light. The sensors cost £400.
Braking problems with middle-aged Subarus from 1994 to 2007 are likely in  some cases to be due to the "Hill-Holder". The device traps brake line pressure using a gravity sensitive valve (usually a ball in a tube) which is effective only when the clutch is depressed (activating the valve) - and the car pointing uphill. It then keeps the brakes applied to stop the car rolling backward downhill. Note it  only works backwards, not forwards.
With most applications the device works if properly adjusted - basically this means the release cable connected to the clutch lever has to de-activate the hydraulic valve when the clutch is released.
With new cars the device is usually works OK, but behaviour can change as the clutch wears. Sometimes this becomes critical as the release mechanism fails to release and the brakes jam on. When a clutch is changed, the whole ball game changes, as the tech is unlikely to understand how the device actually DOES work, and even worse has not the slightest idea how to adjust it. Where Subaru are concerned, the WSHOP manual is not helpful.
There are safety implications. It`s all in www.basinger.us/Impreza/General%20Tech.%20Ref.%20Books/MSA5P0170C34893.pdf - which appears to be a USA tech letter on the subject. (Link worked on 29-6-09.)
If air suspension fails (and would otherwise write off the car), Grade A Subaru offers a repair substituting standard duspension for around £250. Link: Grade A Subaru
Back: Model Timeline