Subaru Impreza 2000 Turbo (1993 - 2001)
Last updated 21 March 2013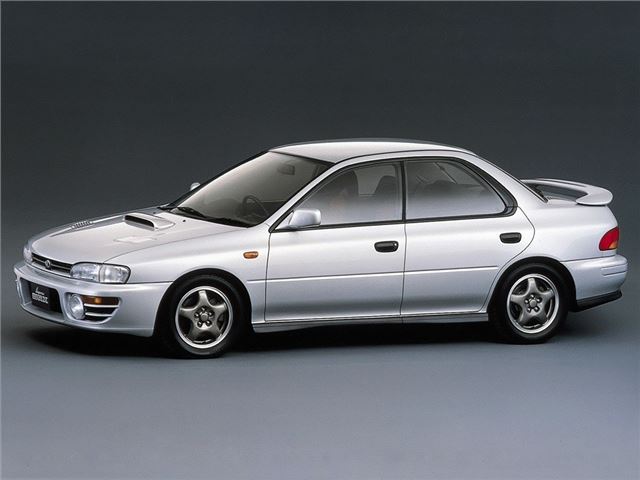 Buying Guide
Good
Saloon or hatchback 'semi-estate' bodies.
4,350mm long x 1,690mm wide.
Quick with standard 208 bhp engine, improved to 215 bhp in March 1999. But special import WRX STis offer 240-280 bhp and two-door WRX has up to 300 bhp. These cars are very fast indeed. 1999 UK 'special' 236 bhp RB5 offers a terrific drive.
Officially imported two-door WRX P1 with 277 bhp, 4.7 second 0-60 and 155 mph at 7,500 rpm priced at £31,495.
Impreza Turbos outsld the non-turbo Impreza in the UK, with 13,000 sold. If you can find an RB5, that's the one to go for.
23rd from top of 100 models for reliability in Auto Express 2002 survey. 26th from top car out of 137 in 2003 Top Gear survey.
Bad
Was originally in short supply so WRXs commanded substantial 'overs'. Impreza P1 just beaten by Mitsubishi EVO V1 in Autocar head-to-head test.
Subarus had second highest warranty repair costs in 2003 Warranty Direct Reliability index (index 217.72 v/s lowest 31.93) due to the high cost of individual repairs. High 8 point death rate from accidents in this model. Rated one of the most expensive medium cars to run in 2003 Which survey. Subaru 3rd bottom of Reliability Index for 2004 combining very high average cost of repair of £993.58 with low 19.82 failures per 100 Warranty Direct policies. Link:- www.reliabilityindex.co.uk
What to Watch Out For
Large proportion of available cars are independent imports, borough in either new or used. Watch out for Japanese modifications for which you can't easily get replacements in the UK. All early WRX two door cars will be non-approved grey imports, so make sure they're legal with proper SVA certificates. To avoid the old SVA 50-car quota, some may have been 'cloned' (more than one car on the same registration).
Change of piston skirt design in 1997 led to knocking noise on start up - usually cured under warranty by replacing just one piston. EJ20 two litre Subaru engines (and some others) developed a bad reputation for premature big end bearing failure. Subaru is claimed that the problem was lack of maintenance, but a number of cases where the buyer was careful and thorough and it still occurred. The problem is worst on the twin turbo versions: these engines are equipped with the short skirt pistons which also wear badly. The symptom of the big end problem is a distinct knocking when you start the car from cold and the symptom of the piston wear is a rattle when cold. These two problems seem to strike at around 100,000 miles.
Reports of clutch and gearbox failures and spate of big end failure.
Check for underside damage from 'off-road' rally stage excursions. Check for uneven tyre wear.
Feel through the wheels for scored rear discs.
Smoke from exhaust could mean burned out turbo oil seals. These cars really need 3,000-mile fully synthetic oil changes.

Back: Introduction
Next: Specifications