Saab 9000 (1985 - 1998)
Last updated 7 October 2013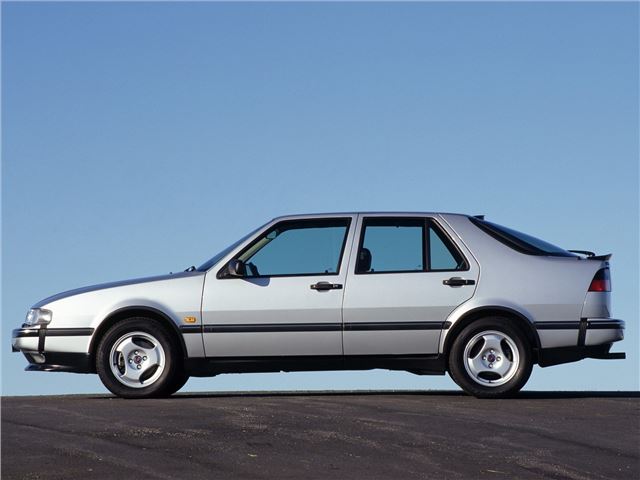 Buying Guide
Good
Great cars, none better than the 170bhp 2.3-litre Eco turbo which covers the ground quickly and still returns 32mpg on a run.
Were capable of huge mileages if looked after properly.
Decent 'big car' handling. Innocuous looks.
Wonderful seats.
Good, old-fashioned 4-speed automatic does what you want and doesn't 'hunt'.
Full-on 2.3 turbo Carlsson and Aero puts out 225bhp, which is very nearly too much.
The more powerful turbos grip and handle best on Goodyear F1's or Toyo Proxes tyres.
Bad
Ride quality a bit firm, but made up for by the excellent seats.
ABS pump needs fresh brake fluid every year.
In June 2001 SAAB was rated by Motor Warranty Direct as Britain's joint fourth most expensive out of 22 marques for used car warranty claims. Saab had above average warranty repair costs in 2003 Warranty Direct Reliability index (index 122.61 v/s lowest 31.93). Link:- www.reliabilityindex.co.uk SAAB 9000 third least reliable car in 2005 Warranty Direct Reliability Survey with 58 repair claims per 100 cars. Link:- www.reliabilityindex.co.uk
Watch
Timing chain rattles. Timing chains oil-sensitive (best run on fully synthetic, particularly turbos). 2.0 eco turbo not as well suited to autobox as 2.3i or 2.3 eco. V6 best avoided. Subject to quite a lot of recalls. Automatic doesn't seem to last, manual 'boxes easily break on the 225bhp cars. Auto tends to fail due to a bush wearing in the pump and rebuilds cost £1,800 (new box £3,500).
Direct ignition module can give trouble. Most owners now carry a spare.
Smoky engines (especially turbos). Check for white smoke from blown head gasket or cracked head. Look under oil cap for mayonnaise.
Huge discs are expensive to replace (feel them through the wheels).
Look for wear in front suspension bushes, hubs and driveshafts. ABS sensors can be a pain to change.
Make sure aircon blows cold. Difficult manual gear selection of 1st and 2nd may be nothing more than a worn rubber bushes in the linkage between the gear stick and the gearbox proper. Costs about £50 to fix.
Rust isn't a major issue, but weak spots are the rear of the sills, rear arches and windscreen surrounds.
Pay close attention to tuned models - there's a world of difference between one done well, and another that isn't. If a good specialist such as Abbott Racing is responsible, you're likely to be safe.
Recalls
1994 (VIN N1041085-N1049024 and P1000001-P1015289): fuel leak.
1994 (9000/Turbo-VIN N1000001-N1049024, P1000001-P1042386, R1000001-R1027659): oil leak and faulty brake light switch on some models.
1995: (*manual with TCS): VIN N1000001 to N1049024, *P1000001to P1042386, *R1000001 to R1026535: loss of brake pressure and/or ABS. 1999:
1993/94 build (5,300 cars): possibility of moisture corrupting computer chips which control passenger airbag trigger mechanism.
Back: Introduction
Next: Running