Rolls-Royce Silver Spirit and Silver Spur (1980 - 1995)
Last updated 16 August 2014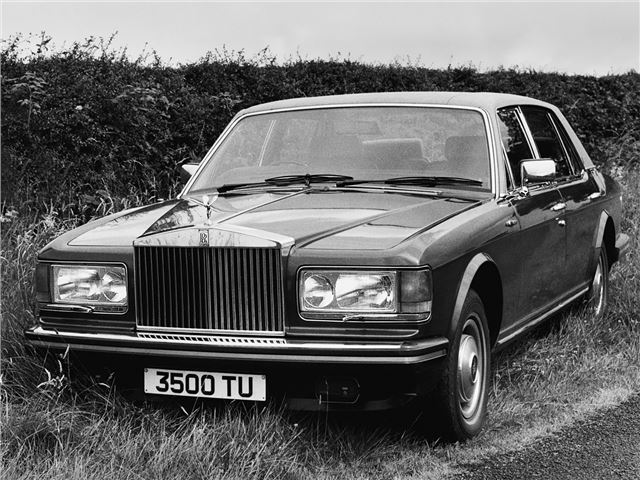 Buying Guide
Good
1980s plutocrat's car. Like driving along in a mobile gentlemans' club. Poshest colour is a dark browny green. Gradually improved over the years with injection and ABS in October 1986, automatic ride control in 1987, four- rather than three-speed autobox in September 1991. Cats came in during June 1990, but were initially a no-cost option. Company taken over by VW in spring 1998 and then sold to BMW. VW kept the Crewe factory to build Bentleys. BMW built a new factory at Goodwood and started production of the stunning new Phantom in 2003.
Bad
Stink of cigar smoke clings to the headlining. 9 mpg in town. Hit hard by engine-size carbon dioxide-based annual taxation and city congestion charges.
Resentful drivers don't let you out of side roads, particularly during recessions.
Apt to get vandalised with rusty nails or keys while parked.
White or cream tells the public it's a wedding hire car, or has been.
Daft old defensive RR habit of not giving power outputs. (1993 Silver Spur had 226 bhp and 340 ft lb torque; 1994 Flying Spur turbo had 360 bhp and 552 ft lb torque.)
BY 2006 PARTS WERE BECOMING DIFFICULT TO SOURCE.
1980/81 models had an interconnected brake and suspension self-levelling system that is a nightmare to fix.
Watch
Must have a proper Rolls Royce dealer or Rolls Royce specialist history.
The Cosworth-built engine is an old fashioned pushrod V8, so you don't want to hear ticking tappets or see any blue smoke from the exhaust pipe.
Make sure the suspension is not unduly wallowy.
Check expensive tyres for tread depth and uneven wear.
Make sure aircon blows cold. May not have taken well to regassing with CFC-free refrigerant.
Good Rolls Royces have a wonderful patina and aura about them. Bad ones make you feel uneasy.
Best to have the car inspected by a different Rolls Royce specialist from the one who's selling it.
Recalls
1997: 29 left-hand drive cars found to have potentially defective braking system. 18/4/2001: (Corniche) fuel vapour could escape from leak detection pump, collect in body cavity and ignite. Fuel tank venting system to be modified.
Back: Introduction
Next: Specifications