Renault 5GT Turbo (1985 - 1991)
Last updated 4 April 2017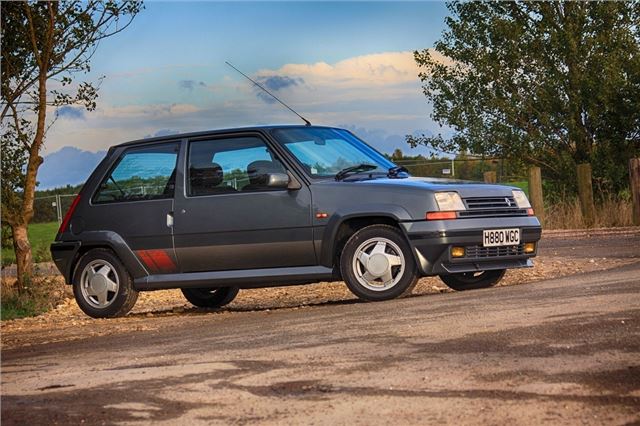 The hot hatch wars were raging when the Renault 5GT Turbo hit the market in 1985 - but despite being a latecomer to the scene, it rapidly picked up a cult following.

Unlike the first generation 5 Gordini (nee Alpine) Turbo, the Gandini-styled GT Turbo was convincingly quicker than all of its rivals - and back when red pinstriping meant everything, a car was pretty much judged solely by its 0-60mph time. But just because the 5GT Turbo was fast, did that mean it was any good? Read on...
---
Classic road test: Renault 5GT Turbo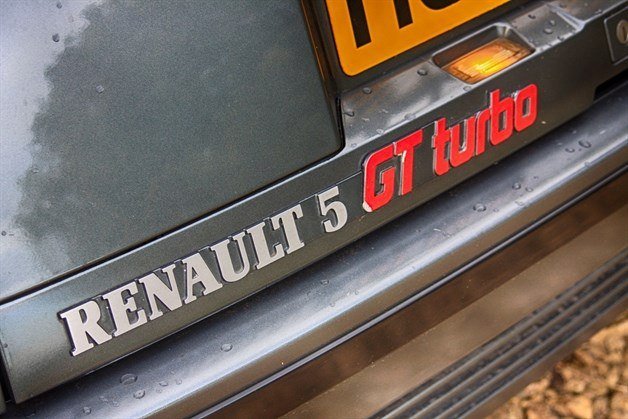 The GT Turbo was the third R5 to feature forced induction - the GT in the name was to differentiate the newer model.
The Renault Supercinq is perhaps one of the cleverest all-new models ever produced by Renault in the post-war era. Because the car it replaced, the original R5, was such an success, having shifted almost 5.5 million units during its remarkable 12-year run, it would have been an act of rash stupidity not to replace like with like. But given the old car's lack of space efficiency, and its unconventional mechanical layout, an all-new car was needed in order to keep on the pace.
The task of updating the styling Michel Boué's masterpiece was given to Bertone's Marcello Gandini, and what a magnificent job he made of it.
The plan was simple - take the existing Renault 9/11, and rebody it with styling closely related to the original R5. The task of updating the styling Michel Boué's masterpiece was given to Bertone's Marcello Gandini, and what a magnificent job he made of it - both modernising and improving upon the original, bringing it bang up to date. It was a much-needed operation, given Renault was now fighting Peugeot's 205 for title of best selling car in France. And when it went on sale at the end of 1984, in a tough market, the Supercinq proved a substantial success for its maker.
Building a fast version was essential in Renault's masterplan. Both engine and body were more than suitable for pumping up. Its Cléon engine may have had its roots anchored in the 1950s, with its pushrod actuated overhead valves, but its strength was never in doubt. The old carburetted Gordini Turbo developed a smooth 110bhp, but in Group 4 rallying form, the mid-engined 5 Turbo was quite happy pushing out 250bhp and more. Not bad for 1397cc.
The recipe was retained for the go-faster Supercinq. It was launched in 1985 and known as the 5GT Turbo - just to separate it from its forebears. The car retained a carburettor to feed its Garrett T2 turbo and an air-to-air intercooler to ensure efficiency was maintained. This might have seemed a little antidiluvian compared with its increasingly fuel-injected opposition, but with an intial outputs of 115bhp and 121lb ft and a kerbweight of 850kg, it had a power-to-weight ratio capable that belittled the opposition. And so it would prove on the road...
About the Renault 5GT Turbo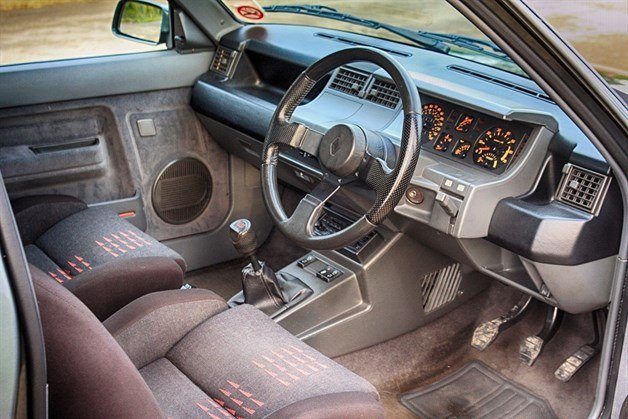 Interior is of its time - and although it earned a reputaton for being flimsy, this 1990 example feels reasonably solid - and everything still works.
One of the joys of the 5GT Turbo was that Renault was far from backwards in pushing it forward visually. So, as was the norm in the hot hatchback market, it was treated to a chunky body kit, wheelarch extensions and front and rear spoilers. And of course, those obligatory yellow front foglights. These less than subtle tweaks combined with the lowered suspension and wider 13-inch alloys to re-stance the 5GT Turbo into a ground-hugging full-fat super-hatch, which looks utterly fantastic.
The suspension wasn't lowered by 38mm from standard just for cosmetics' sake, though. The biggest changes were at the rear. where a brand new V-section beam at the forward end of the trailing arms pinned together an additional transverse torsion rod and a new anti-roll bar. In addition, there were new front springs, and dampers as well as an anti-roll bar up-front. The primary goal of the highly-developed set-up changes was to quell body-roll and reduce understeer. 
The main improvements in the post-1987 Phase 2 were the addition of a new water-cooled turbo, and tweaks to ignition mapping. These changes helped up the power to a 205 GTI-beating 120bhp. A new electric anti-percolation fan was also added to the carburettor set-up to lessen fuel evaporation and consequent hot-starting problems on the early cars. Further attention was paid to the cooling system, both in the intake and the turbocharger installation, to maintain reliability. And these later cars were a much better bet overall.
There were cosmetic upgrades, too. The skirts and spoilers were now body-coloured, while bold new graphics were applied to the flanks. The angular interior was treated to bright new interior fabric in, yes you guessed, red and grey. The final touch were pretty five-spoke alloy wheels, which were already beginning to look unfashionably small at 13-inches in diameter.
Compared with the Volkswagen Golf GTI and Peugeot 205GTI, the little Renault's 0-60mph time of less than 7.5 seconds was on another planet.
As for the performance - which is what this car is all about. Renault was right to be cocky right from the outset when it came to advertising the 5GT Turbo on British TV (above). It might have entered the blood-bath hot hatchback wars, but in that (then) most important of benchmarks - 0-60mph - it was supremely rapid. This advert claimed 7.5 seconds, but some road testers managed to squeeze that down to 7.1. Compared with the Volkswagen Golf GTI (8.5 seconds) and the Peugeot 205GTI (8.7 seconds), the little Renault was on another planet. Even when the rivals upgunned their cars - to 16V and 1.9 respectively - they still couldn't keep up with the Renault up to 60mph.
Our test car is a very late Phase 2. It's a member of Renault UK's heritage fleet, and despite a mileage pushing 90,000, it's still both in rude health mechanically, and shiny enough to turn heads on the most dismal of days. It's also refreshingly unmodified, and clearly has been properly looked after - which is imperative with these cars, because although the drivetrain was strong, much of the metal and plastic that wrapped it wasn't.
On the road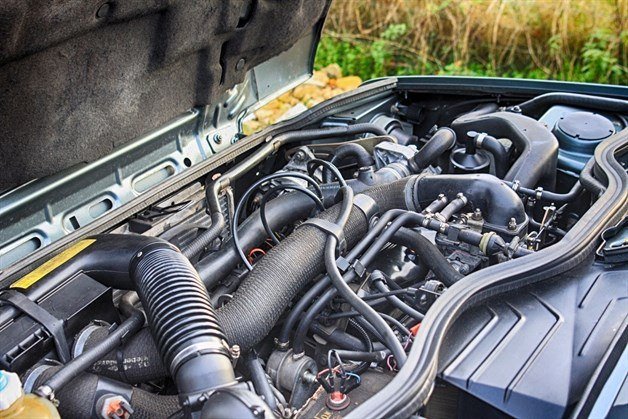 Not much to look at thanks to turbo plumbing, but the little 1.4-litre Cleon developed 120bhp from 1987.
Jumping in the 5GT Turbo, you're first struck by how light and airy the cabin is, and how high the Monotrace driver's seat has you perching. But don't worry, those slim pillars won't leave you feeling vulnerable, and you'll soon sink into those seemingly firm seats. Long-legged drivers might feel there's a slight squeeze on rearwards seat travel, but this is a typical complaint of most French cars of this era. The controls work well, and the busy dashboard instrumentation looks suitably sporting - especially with that integral boost gauge.
The 5GT Turbo is not like a Peugeot 205GTI, which is all touchy-feely and alive at your fingertips. Instead, it simply points, grips and changes direction like a circuit racer.
Start it up - remembering the manual choke, of course - and the little engine bursts into life eagerly, and soon settles to a busy idle. The unassisted steering is weighty at parking speed, but not unpleasantly so, while the gearchange is a little obstructive when cold, but does loosen up once you have a few miles under your belt. Pull away, and it all feels quite civilised - and not the bucking bronco the uninitiated might expect. In town, the ride is firm, but well damped, so the lightweight interior doesn't end up rattling in sympathy with the road.
Clear of the city limits, and the 5GT Turbo truly flies. Acceleration is all you'd hope for, and once you get your head around the fact that the turbo takes a wee while to spool up and starts whistling a second or two after you plant your right foot, you'll have huge great dollops of fun. At UK legal speeds, the GT Turbo doesn't only feel quick for an '80s super-hatch, it's rapid in absolute terms. Because when that little turbo is spinning, there's more than 4000rpm on the tacho, and you're in the right gear, it's astonishing fun.
The handling is also seriously impressive. The 5GT Turbo is not like a Peugeot 205GTI, which is all touchy-feely and alive at your fingertips. Instead, it simply points, grips and changes direction like a circuit racer. All of the controls marry up delightfully - nicely-sized wheel, perfectly-geared and weighted steering, positive gearchange and beautifully-placed pedals give a driver who's cracking on plenty of confidence.
And the faster you go, the more planted it feels, and the more serenely you flow. This is seriously impressive, giving the ageing Uniroyals this one's riding on. A keen driver might miss a musical engine, or nervous energy from the front or rear, but they'll absolutely adore the speed at which this thing covers ground. Soon, you'll be running rings around slower drivers at every opportunity, and behaving like a hooligan - anti-social behaviour these days. But that's what these cars are all about, surely?
The HJClassics Verdict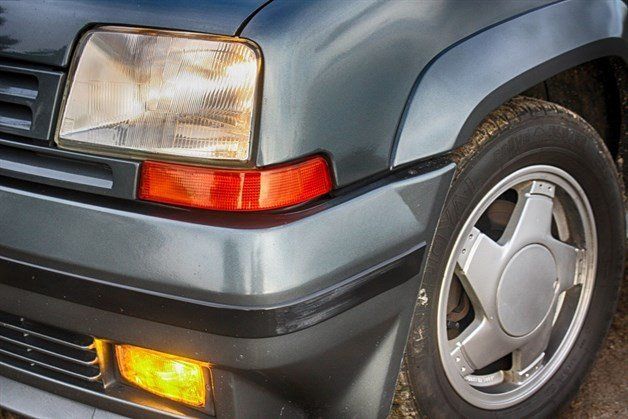 Yellow foglights are an essential French super-hatch add-on.
The Renault 5GT Turbo is a brilliant super hatch. It seems silly that in the pantheons of 1980s greatness, it's been rather overshadowed by the Peugeot 205 and Volkswagen Golf GTIs, because it's way more effective than eiter at covering ground quickly. So, if you want a fast hatch capable of embarrassing modern machinery, this is just the car for you. The 5GT Turbo also looks brilliant - in standard form - and is capable of turning heads, and making people smile, which is core to the appeal of a classic car today.
But most importantly, the 5GT Turbo is a very exciting car to drive, and one which positively begs to be driven hard at every opportunity. And you can see that Renault's subsequent dominance of the hot hatchback sector throughout the 1990s and 2000s began here - just as Volkswagen and Peugeot seemed to go off the boil. The million dollar question though - would we have one over the more common and cultish Peugeot 205GTI or a Volkswagen Golf GTI? In a word, yes.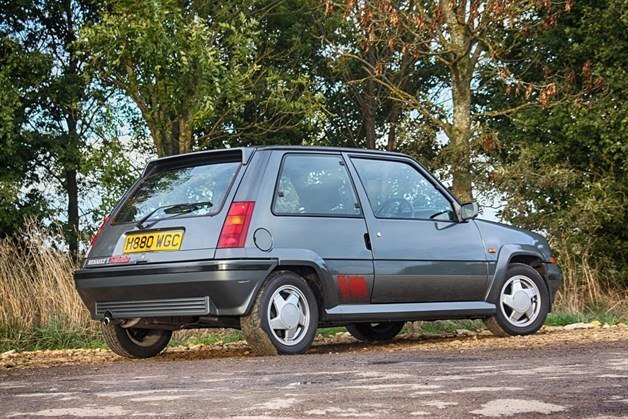 Back: Introduction
Next: Specifications
Compare classic car insurance quotes and buy online. A friendly service offering access to a range of policies and benefits.

Get a quote