Reliant Sabre (1961 - 1964)
Last updated 25 March 2013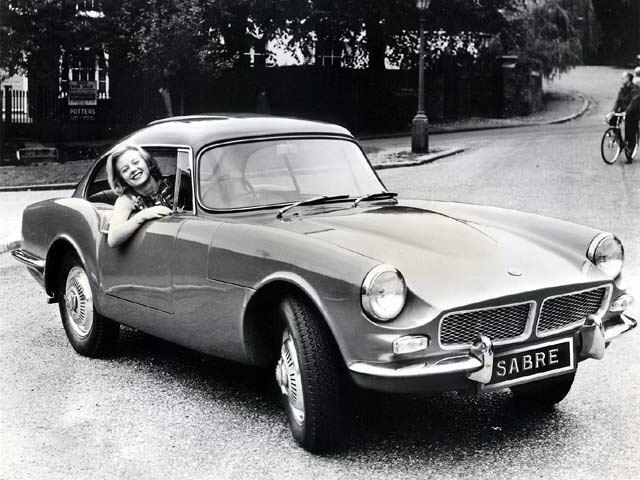 Model Timeline
January 1960
Autocars of Israel expands its range and starts exporting
In the early 1960s, Autocars briefly sold the Sussita range in the US and Canada as the Sabra (meaning a native of Israel, but also the name of a genus of cactus). This venture had been prompted by the car's enthusiastic reception at the 1960 New York Trade Fair, where firm orders for 600 examples had been placed, largely on the strength of its low purchase price.
Exports began with a shipment of 35 cars in June of that year, and it was also reported in the Israeli press at the time that Autocars were gearing up to produce 2400 cars per year, having only recently expanded their operation from workshop to factory scale. In the event, the Sabra flopped in the North American markets due to its relatively poor build quality, but the name would come to have lasting significance for Reliant.
May 1960
Autocars spots the Ashley GT and considers it for production - Reliant is called in to assist
Not daunted, that same year Autocars' ambitious managing director, Itzhak Shubinsky, spotted a coupé called the Ashley GT at the London Sports and Racing Car Show, and decided that it was just what he needed to gain a proper foothold in the potentially lucrative US car market. He promptly bought the design – and the moulds required to produce its bodywork – and gave Reliant the task of re-engineering it for sale in the US
March 1961
Sabra Sport unveiled in New York
What emerged was the Sabra Sport, which debuted at the 1961 New York Motor Show in roadster form, but was later also available with hardtop coupé and fastback bodywork. Such was Mr Shubinsky's impatience to see the car launched that the first 100 or so models were built entirely by Reliant in the UK, and exported directly to the US, while the finishing touches were put to Autocars' own production facilities.
June 1961
Reliant launched the car in the UK
History relates that fewer than 150 of these cars ever reached America, but Reliant decided to capitalise on its investment by launching the car in the UK, anglicising its name to Sabre. Incidentally, in the mid-1960s the Sabre gave way to the Ogle-designed Scimitar, maintaining the almost-accidental 'lethal blade' naming scheme, while the Sabre name itself made a comeback in 1991 on a madeover version of the Michelotti-designed Scimitar SS1.
May 1964
Production of the Sabre ended
Back: Introduction
Next: Specifications
Compare classic car insurance quotes and buy online. A friendly service offering access to a range of policies and benefits.

Get a quote