Porsche Boxster 986 (1996 - 2004)
Last updated 29 April 2019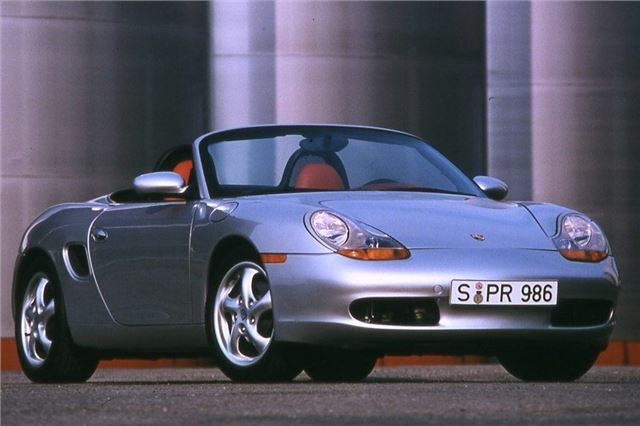 Buying Guide
Good
4th top for reliability in Auto Express 2002 survey (which, of course, was of 1996-2000 cars).
Club at www.porscheclubgb.com 

Alternative Porsche Club www.tipec.net 

Reader recommended source www.911virgin.com because you get a very straight deal; everything wrong with the car fully listed or fully fixed by independent specialists and itemised. 

Also reader recommended www.autobahn.co.uk 

Independent repair and service specialists include www.autofarm.co.uk & Hartech.
Bad
Takes a while to learn and fully exploit the car's handling, especially the more powerful Boxster S. 

Engine is completely concealed behind difficult-to-remove panels (owner drivers aren't supposed to touch it). You check the oil and water and top them up from the boot. 

320 bhp 2.7 Turbo never happened, guess because of overheating problems. 

Standard model could do with a bit more power, which it got in the 'S' version. Even small out-of-warranty problems can be very expensive due to inaccessibility of engine. 

Plastic rear window until 2002 revamp. 

Standard factory warranty only 2 years. 

Warranty Direct will not normally warrant them due to high cost of claims. Will require a prior inspection. 

Completely revamped for 2005 model year when it became the 987.
Watch
Must have fully stamped up Porsche dealer or Porsche specialist service history, preferably itemised bills as well.
Cracked bore liners, often on No 6, can lead to total and catastrophic engine failure. First four year's production can also suffer from porous engine blocks. The first most owners know of this is overheating. Difficult to check for emulsified oil which would be an early sign of the problem. Seems to only affect pre-2001 MY cars. Timing chain/belt tensioner problems reported. 

Any mayonnaise-like emulsion or scum in the radiator header tank or under the oil filler cap, don't touch the car. It probably needs a new engine. (Difficult to check with a Boxster because oil and water fillers are remote and engine cover cannot easily be removed.) 

New 3.2 S engines are £13,000 but see link below for 'Silsleeve' replacement bore liners. 

Main oil seal prone to repeatedly leaking even after replacement. 

'Porous block' problem is actually broken or displaced 'Locksil' bore liners. Link to independent cure employing 'Silsleeve' steel liners with Nickasil coating at www.autofarm.co.uk/new.php3/silsleeve.html 

Poor gearchange 1st to 2nd and 2nd to 3rd on 2003 986 Boxster S. Porsche modified the gear selection mechanism to provide a slicker shift. Apparently the gear selector moves the gear into its final position on its own after the gear shift has moved the selector fork a certain distance rather like an over centre device. This is achieved by detent balls and springs on various shafts etc. Any wear on the system can result in the gear not being initially moved to the place where the detent spring system can move the gear to its fully engaged position, the result is that it disengages. 

Brake discs prone to rusting if car not regularly used. 

One reader's experience of a year 2000 Boxster S from 2002 - 2008: 

"The car has been absolutely wonderful to drive -score A+, and my wife and I frequently drive it all over Europe, however it has still only done 50,000 miles. As for build quality, it scores a woeful D-. Undoubtedly this ranks as one of the most unreliable of my many cars, and after talking to many other Boxster owners, I am clearly not alone. I have had to replace first the rear suspension arms and now the front. The hood mechanism broke and leaked, the rear spoiler has caused problems, the air condition system had to be replaced, a major oil leak took place between the gearbox and engine, both cam covers leaked oil, the discs rusted very quickly on, the driver's window mechanism has broken, the central cubby box has broken, unrepairable panel light have occurred amongst others and now I am having problems with the Tiptronic gearbox. The car changes gear ok up to fourth but does not go up to fifth. Similarly, if kickdown is used on acceleration, the gearbox fails to change down a gear, when lifting off the accelerator. Its been looked at a few times and the Porsche dealer now tells me I probably need a new module - approx £2,000 incl vat and fitting." 
Seems that attempting to change the battery sets off the alarm.
19-6-2011: Most common serious problems seem to be Rear Main Bearing Oil Seal failures and engine Intermediate Shaft Bearing Failures. Intermediate Shaft Bearing failures explained here. Obviously to check for the RMS problem look underneath for signs of an oil leak. That costs around £700 to rectify at an independent. An IMS failure is more serious, potentially wrecking the engine. Autofarm will fit a modified IMS bearing to 1997 - 2005 M96 and M97 engines, together with a fresh clutch and dual mass flywheel, for £2,050.
28-4-2012: Drains from roof can become blocked, leading to wet floor passenger side where the ECU is located.
20-8-2012: For warranty purposes, Porsche now requires for all new tyres to be stamped with the letter N-0 or any sequence up to N-4 and all tyres should match, not N-2 on front and N-4 on back, for example.
22-11-2013: Jumped timing chain on 20,000 mile 2004 Boxster S resulting in quotation of £15,000 for new engine which is more than the car is worth.
10-2-2014: The acknowledged specialist in timing chain, rear main bearing seal, intermediate shaft bearing failures and other problems with M96/M97 engines is Brian Hart at www.hartech.org who will also chat to owners about their problems.
7-8-2016: Reader reported that an early transmission oil change on a 2004 Boxster 987 at 72k miles rather than the official 90k miles mostly fixed a sticky, notchy gearchange.
29-4-2019: Report of "machine gun like" intermittent rattle from Porsche 986 Boxster. Describes as "like when you fixed a playing card to your bike to rattle against the spokes". This is then followed by a steady 'ticking' of the same timbre then after a few minutes the rattle again. Almost as if something is being wound up and then released. It occurs sometimes on start-up and sometimes when driving and then not at  all for weeks or months. It seems to be coming from under the console/dashboard. Owner had the radio out and tried to see if there's something stuck in the fan but the noise can occur whether the fan (hot or cold) is on or off. Garage has not been able to replicate the fault.
Back: Model Timeline
Next: Running