Porsche 911 Turbo (1975 - 1989)
Last updated 3 April 2013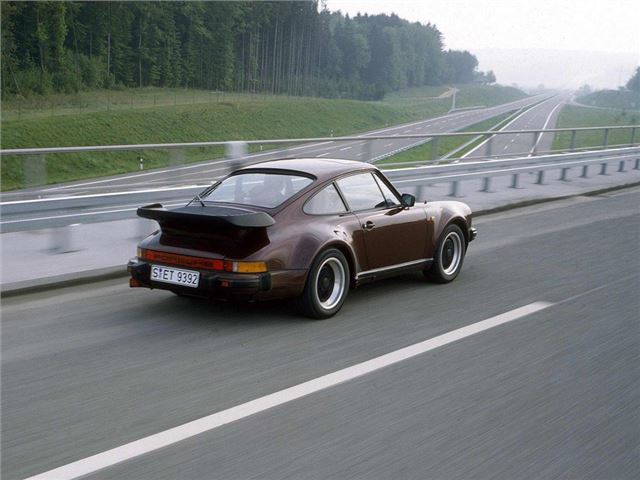 Vivid performance, turbo lag in early models adds excitement, tough as old boots
Handling is challenging if you're new to 911s
Introduction
Back in 1975, you could count the number of production cars that could accelerate from 0-60mph in six seconds on one hand. And they were generally Italian, mid-engined, impossibly impractical, and desperately beautiful. When the Porsche 911 Turbo rocked up, it changed all that - because now you could have Lamborghini Countach matching acceleration in a car that was manageable in traffic, and capable of seating your kids in the back.
Having competed with turbos in racing, Porsche took the view that they were also relevant in performance road cars. Not just for blistering performance, but also because potentially, turbos were (and are) cleaner and more economical. With fat arches to cover the 7in and 8in wheels, plus that enormous rear spoiler, the 911 Turbo ended up really looking in the part, and becoming a proper trend-setter. But as well as incredible acceleration, the 911 Turbo also had superb grip and handling, plus enormous brakes to match. The gearbox was only a four-speed, as Porsche's five-speeder wasn't man enough for the task, but such was the torque that this didn't hold it back.
In 1977, Porscvhe upgraded the 911 Turbo. With an extra 300cc and an intercooler built into the rear spoiler, the 911 Turbo's power jumped by 40bhp, giving the 3.3 a record-breaking 0-100mph time of 12.3 seconds. The additional torque from the larger engine made the 3.3 easier to drive, though, lessening the 3.0's turbo lag to some extent. Further development to the suspension reduced the car's power-off tail-wagging tendencies and improved safety, but the pay-off was a bone-jarring ride. And it was far from being fail safe.
Towards the end of its life, the 911 Turbo received a fair bit of (marketing) attention. So a flat-nose was introduced, as were cabriolet and targa-topped version - but the best was reserved for the 1989 model year - yes, a five-speed
gearbox was finally fitted!
Next: Specifications
Buy a Porsche 911 from £29,999