Peugeot 406 (1999 - 2004)
Last updated 20 May 2019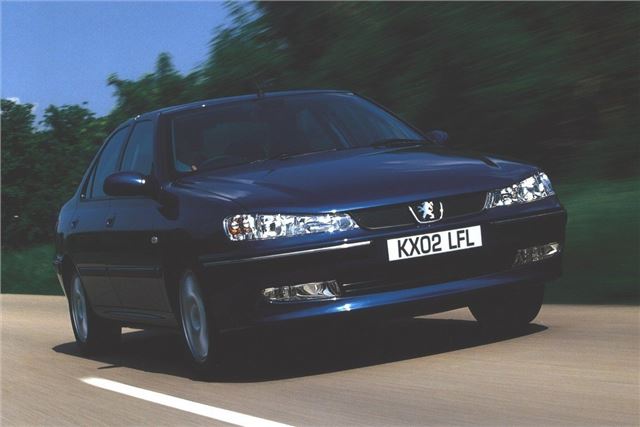 Buying Guide
Good
Peugeots generally had below average warranty repair costs in 2003 Warranty Direct Reliability index (index 86.25 v/s lowest 31.93). Link:- www.reliabilityindex.co.uk 99% of cars up to 2 years old breakdown-free over previous 12 months in 2004.
2.2HDi GTX estate voted Caravan Club Towcar of the Year 2002 due to its impressive torque delivery.
25-1-2011: A Peugeot 406 2.0HDI can be brilliantly long lived. A 289,000 miler that took HJ to the airport did not feel baggy at all from the passenger seat. The driver wished he could find another one as good. 
9-10-2014: Peugeot 406 2.0HDI in taxi fleet local to HJ has now reached 450,000 miles with very few problems.
12-2-2018: Report of 2001 Peugeot 406 2.0HDI Executive Estate reaching 353,000 miles with no problems. Had a replacment exhaust amd mass airflow meter in the last 20,000 miles. That's all. 
Bad
Still only a three star performer in 2001 NCAP crash safety tests, despite improvements since 1997. 

Build still feels a bit light. 

1998-2000 petrol models average for breakdowns, poor for problems and faults; 1998-2000 diesels average for breakdowns and problems, poor for faults; 2001-2003 diesels average for breakdowns, poor for problems and faults in 2003 Which survey. 20th from bottom out of 137 models in 2003 Top Gear survey. 2004 Which? quote: "A sub-editing nightmare in the Which? Car office - there are more things wrong with the 406 than we could fit in our summaries."
Watch
'Clonking' (likely to be wear in anti-roll bar bushes). 

Clocking of diesels (has it been a taxi?). 

Oil consumption of 1.8i and 2.0i 16v petrol engines. 

Aircon system prone to problems. 

Look for leaks: coolant, power steering fluid, gearbox oil, engine oil. 

If looking at a 406 with a lot of toys, such as satnav, make absolutely sure that everything works. 

Fault in electronics of indicator stalks very common from May 2001. Free fix was available in France from December 2002. UK dealers would replace, but seem to draw the line at replacing more than three times or on cars more than 4 years old. 

Lots of problems with brake discs wearing rapidly or warping, so check these carefully before you buy. The reason for repeated problems is hubs not being cleaned properly when discs are replaced. 

Reports of radiators failing after 3 years. 

Combined rear discs and parking brake drums apt to give trouble after 3 - 4 years. Rear discs more prone than average to rusting and parking brake not good so must always park in gear. Replacement of discs/drums, pads and parking brake shoes is a £450 job. 

Can suffer coolant loss from hoses or rad which can lead to damage from overheating. 

Spate of electrical problems: speedos and all sorts of failures on cars fitted with satnav. 

Using the remote to lock the car does not always lock the boot, leaving items inside vulnerable to theft (per BBC Watchdog 10-9-2002). Dealer can fix. 

Dozens of fires involving 2002/3 model year 406 HDIs in 2003. Wiring went Multiplex. The control module for the front mounted engine cooling/air-con fan can start burning after being parked for several hours, though has also occurred while being driven. See recalls. 

On HDIs, rubber cushioned timing belt pulley needs replacing at same time as timing belt (60k - 70k miles) otherwise can separate. 

Erratic speedo may be due to failure in the "speedo interfasce box" located behind the glove compartment. Much cheaper to replace than a speedo head.
2002 - 2007 2.2HDI prone to shredding its timing belt due to water ingress under the cambelt cover. If the belt fails and valves hit pistons the engine is irrepairable scrap. Seems that the injectors are virtually impossible to remove from the head
31-12-2012: 'Gong' sound means that car battery is failing to hold sufficient charge and needs to be replaced.
7-11-2013: Though 2.0HDI can do 300k miles no trouble, can also be prone to head gasket problems.
Recalls
2000: check alloy wheels as damage could lead to fractures.
1-2-2000: possibility that brake servo valve may not operate correctly resulting in loss of servo assistance. 18,405 cars recalled for inspection and possible replacement of brake servo valve.
1-2-2000: 487 cars: possiblilty that brake pedal assembly nuts may work loose. Nuts to be tightened and lost nuts to be replaced.
19-1-2001: Incorredct specification rear suspension arm pivor fixing bolts could fail under arduous operating conditions, possibly resulting in rear wheel locking. Pivot fixing bolts to be examined and repladed as necessary.
3-8-2001: Limited recall of 195 406s because brake servo vacuum pipe may become damaged due to chafing on wiring harness leading to loss of brake servo assistance.
29-10-2001: 7,593 1.8 16v 306s and 406s recalled for timing belts to be replaced as could fail before 72,000 mile 'life'.
Late 2001 to March 2002: TSB issued to check all common-rail to injector unions on HDIs for leaks.
5-4-2002 (affects 40,254 diesels only): In wet weather, water cound enter ECU solenoid valve operating circuit causing engine running problems and reduction in power assistance to the brakes.
2-4-2002: French recall of 406s due to boot lock defect. Takes 15 minutes to rectify. May 2003 TSB recalling HDIs because water can enter the electrics of the cooling fan.
13-5-2003: Safety recall for 2002/3 406 HDIs with Multiplex wiring as water may enter the under bonnet cooling fan control module, cause a short circuit and start and engine fire. Modified cooling fan assembly to be fitted.
15-8-2003: 35,670 406s recalled because connections for seatbelt pretensioners and side airbags may be "inverted" so wrong side airbag may be triggered in an impact. Reverse connections in airbag connector.
5-9-2003: Same recall repeated for a further 100 406s.
Back: Model Timeline
Compare classic car insurance quotes and buy online. A friendly service offering access to a range of policies and benefits.

Get a quote