Peugeot 306 (1993 - 2001)
Last updated 10 January 2018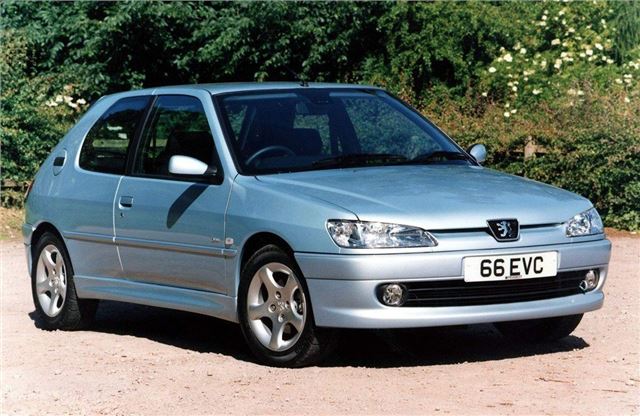 Buying Guide
Good
Still a decent looker.
Very cheap now.
Bad
Originally had high used values due to prettiness of body.
1.8 8-valve XU petrol is the worst engine and many were fitted with the wrong ECU chip leading to failed emissions tests. 

Autobox not recommended. 

Not all diesels have PAS and all need it. 

Cambelts and camshaft end seals must be changed every 3 years and 36,000 miles. Coolant of diesels must be changed every two years to avoid cylinder head gasket problems. 

Like Citroen ZX, can have cat converter test problems. 

Build quality a bit 'light'. 

Easy to fluff 2nd to 3rd gearchange on GTi-6. 

Air conditioning light too small, hard to tell if AC is on off. 

Diesels tank foam a lot when filling, getting a full tank can be a 10 – 15 minute job to wait for the foam to die down, common on 406 as well. 

Rear suspension too soft for an estate, any weight and the car sits down badly, same problem with other estate owners. 

Peugeot mounting points for the tow bar are too light, even with a light trailer 350Kg the boot floor can be heard to flex. 

Trim in estate door comes loose and screws drop out. 

13th from Bottom of 100 models for reliability in Auto Express 2002 survey. 1995-1997 petrol and diesel average for breakdowns, but poor for problems and faults; 1998-2000 petrol and diesel average for breakdowns and problems but poor for faults in 2003 Which survey. 25th from bottom out of 137 models in 2003 Top Gear survey.
Peugeots generally had below average warranty repair costs in 2003 Warranty Direct Reliability index (index 86.25 v/s lowest 31.93). Link:- www.reliabilityindex.co.uk 2001-2003 306 petrol and diesels avarage for breakdowns, problems and faults in 2003 Which survey.
Watch
Front suspension bush wear (205s and 306s tend to 'lean' on the front suspension and are vulnerable to kerb damage. They also suffer badly from road hump damage). 

Oil burning petrol engines needing new valve stem seals (allow £200). 

Check spare wheel is in its underboot cradle and not nicked. 

If fitted with low profile tyres, check for tyre and rim damage. 

If fitted with aircon, make sure it works properly. 

Some reports of fuel line failure on petrol cars, cured by reinforced pipes. 

If car has rear discs, check calipers for fluid leaks. 

Check for stiff clutch, as cable may need replacing. 

Note that humming noise from behind the dash of 306 HDIs can be cured by fitting a fuel line damper, which must be fitted the right way up. 

Make sure all door electrics work. 

Any noise from the transmission of a late 306 1.4 do not buy the car. From 1999 they were fitted with a different box the bearings of which wear the actual casing. No cheap used spares available and a new box costs more than the car is worth. If battery appears to fail may be nothing more than poor contact by the clip-on positive battery terminal lead. 

Clutch cable of RHD cars is routed close to the exhaust, which dries out the lubrication and prevents the self-adjuster working properly which leads to premature clutch failure. (Thanks to Mike Brewer of 'Driven' and 'Pulling Power' for this tip.) 

Contacts fail in remote keys leading to rapid discharge of batteries. 

Reports of failure of rear disc brake callipers. 

Reports of engine compartment fuse box short out on diesel almost leading to engine compartment fires (see Recalls). 

Spate of conrod failures on 1997 -1998 R and S reg 1.9 XUTD diesels; one case of a late reg T: too many to attribute merely to running with low oil levels. Seems only to affect cars built from April 1997 with DHY (not DHX) serial number engines. 

Wiring looms to front doors prone to fracture too close to repair and new looms are £300. 

On 2.0 HDIs, rubber cushioned timing belt pulley needs replacing at same time as timing belt (60k - 70k miles) otherwise can separate. 

If airbag warning light comes on, may be nothing more than a disturbed connection under the driver's or passenger's seat. 

One owner's list of problems with 306 2.0HDI Meridian estate:- 

"Had to replace defective design of timing belt crankshaft pulley £140. 

Repeated problems with engine codes, light comes on, get codes read, check item, clear code does not come back. Water getting in to ECU wiring loom some where? In the end purchased from www.autotap.com code reading add on for laptop to read and clear codes OBDII compliant cars. A must for HDI diesels, people got to know I could do this and it paid for itself many times over. 

Drivers door wiring harness breaking down, £50.00 for new loom and a pain to do. Doors lock and unlock on their own. Be careful if the driver tries to start the car when it has deadlocked itself. The engine immobilises and require the laptop to unlock it. 

Key problems with central locking in that the remotes stop working replace batteries and reset key, still do not work. 

Problem with quick release battery terminal, not securing on to battery properly resulting in over heating. 

Camshaft belt is a nightmare to change, 5-6 hours and the patience of a saint. Tried three mechanics, all did not really want to know, had to do it myself. Got to undo engine mounting to change the belt. No space at all to get the hands in. Got to buy push in plastic plugs to re secure under guard access hatch to get at belt." 

Problems with fuel tank lifter pump relay, common on Bosch Monotronic system used by all Peugeots, some Citroens and Renault. Vehicle won't start, no fuel pressure to common rail pump, car goes in, bill for new lift pump, check fuse box, new relay, check pump, same old pump. The pump is around £300.00, relay is £15.00. Seen this problem on Renault van as well. 

On 306 2.0HDI, throttle problems may be cured by disconnecting the two plugs on the engine bay wiring harness on the near side of the engine bay, cleaning the contacts and reconnecting the plugs.
31-12-2012: 'Gong' sound means that car battery is failing to hold sufficient charge and needs to be replaced.
Back: Model Timeline
Compare classic car insurance quotes and buy online. A friendly service offering access to a range of policies and benefits.

Get a quote