Peugeot 205 (1983 - 1994)
Last updated 31 July 2013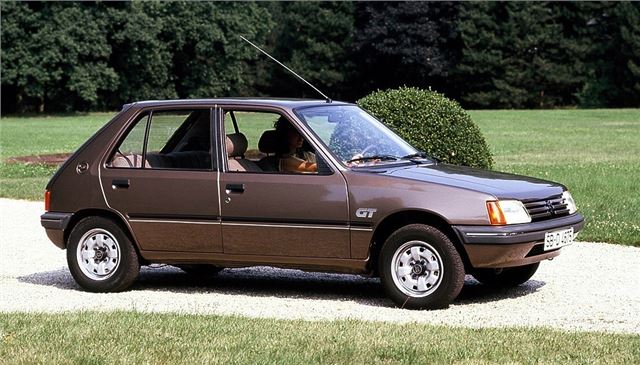 Buying Guide
Good
The definitive 1980s hatchback.
Brilliant 'wheel in each corner' design, no space wasted anywhere and great looking.
Also no rust traps. It's rare to see a rusty 205 except at the leading edge of the roof and door bottoms.
Excellent ride and handling combination.
Light weight, from 740kg for 1.0XE to 850kg for 1.6GTi.
GTi models very throttle sensitive with lift-off oversteer available on demand.
Sold 5.3 million.
Later post-1988 'TU' sub-1.4 engines better than early small engines which still had their gearboxes in the sump.
Diesels capable of 50 mpg and late versions came with power steering.
Clever cantilever folding front seats of three-door bodies give good access to rear seat.
Peugeots generally had below average warranty repair costs in 2003 Warranty Direct Reliability index (index 86.25 v/s lowest 31.93). Link:- www.reliabilityindex.co.uk
Bad
Very light build, so vulnerable in accidents - especially at the back.
Small front discs of early diesels lead to heavy pad wear.
Single front washer reservoir of pre-1986 cars could lead to problems with rear wash/wipe.
UK govt stats show high 7 out of 9 point death rate from accidents in this model probably due to frailty of the body.
Watch
Check spare wheel is in its underboot cradle and not nicked.
Front suspension wear (205s and 306s tend to 'lean' on the front suspension and are particularly vulnerable to kerb damage).
Oil burning petrol engines needing new valve stem seals (allow £120).
Crash damage and rust in doors, window surrounds and brake pipes.
Rusty rear discs on 1.9 GTis.
Valve stem seals of GTis give out at around 60,000 miles. Cambelts and camshaft end seals of all XUs must be changed every 3 years and 36,000 miles. Coolant of diesels must be changed every two years to avoid cylinder head gasket problems.
No underbody rust traps, but superficial rust a problem on early cars.
Back: Introduction
Compare classic car insurance quotes and buy online. A friendly service offering access to a range of policies and benefits.

Get a quote