Panther Rio (1975 - 1977)
Last updated 25 March 2013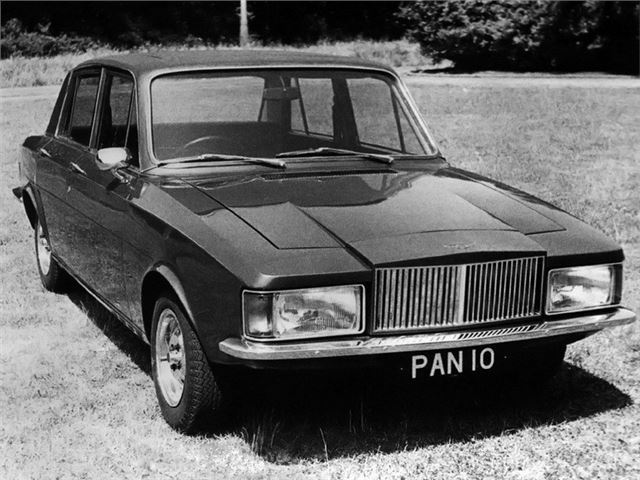 Model Timeline
December 1973
Demand for Panther's top-line cars dropped, the company looked at building something less ostentatious
Panther Westwinds had been set-up by fashion designer Bob Jankel to produce expensive and bespoke cars for the customer that wanted something entirely different. His previous products included the (Jaguar-esque) J72 and (Ferrari-esque) FF, which were both very fast – because they were based on Jaguar underpinnings – and very expensive. This was obviously a lucrative market to be in when times were good, but following the 1973 energy crisis, demand for such profligate cars began to melt away like snow in spring.
Ever one to produce an answer to a question no-one had asked, Jankel began working on a car that would appeal to the Rolls-Royce owner looking to trade down to something more economical, without resorting to purchasing anything so vulgar as a Mercedes-Benz, whilst losing nothing in terms of luxury or build quality. Casting around for suitable donor cars, Jankel hit upon the idea of building a car based on the Triumph Dolomite, which thanks to its combination of advanced engines and upright driving position, would offer a unique blend of modern and traditional.
September 1975
Panther Rio launched
The Panther Rio was the result, and was launched in September 1975. According to the original press release, "The Rio combines characteristics combined in no other single car – the very highest level of luxury, appointments and smooth quietness with superb handling, a 115mph maximum speed, 0-60mph acceleration in 8.7 seconds, the opulence of Connolly leather, deep pile carpeting and burr walnut in the finest limousine traditions with the fuel economy and manoeuvrability of a compact family saloon; Panther coachbuilt quality and safety engineering with total functionalism; hand-crafted exclusivity without ostentation." The Rio was offered in two forms, the 1850 version was the "base" model and the 2-Litre 16-valve version (Dolomite Sprint) called the Rio Especial.
Panther was certainly upbeat about the car's chances and talked in terms of a pre-order of 100 cars from H.R.Owen. This would have been a sweet deal, which would have seen the Rio offered for sale amongst some very exclusive machinery indeed.
However, the 100 car deal never materialised and the Rio sold in dribs and drabs, which would be expected for a car that no matter how luxurious and exclusive it was, remained little more materially than a restyled Triumph Dolomite.
The price was also eye-watering: In February 1976, £9445 was the price for the Rio Especial, which was quite simply over the top – in comparison, a Dolomite Sprint cost £3283 and the Jaguar XJ5.3 cost £7496. What Car? drove the car – an ex-H.R.Owen demonstrator, no less – in 1980 and remarked that the craftsmaship was very evident when you looked at the interior of the car. The only downside was that the new thicker, fatter seats resulted in a more cramped interior than the car it was based on…
September 1977
Production of the Rio ceased
The result was inevitable – Panther sold just 35 Rios, and learnt their lesson: its next small saloon, launched in 1980 for a more realistic £7500, was a plushly retrimmed and turbocharged Vauxhall Chevette HS, which dispensed with the Rio's bespoke aluminium bodywork in favour of a mild bodykit. Other than that, Jankel focused on what he knew best: retro-styled sports cars, such as the Vauxhall-based Lima, and upmarket exotica, such as the Panther Six.
Back: Introduction
Next: Specifications