Morris Minor (1948 - 1971)
Last updated 8 August 2014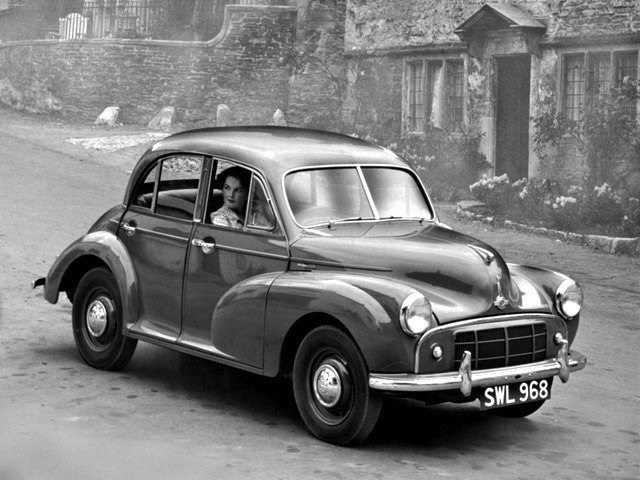 Buying Guide
Bodywork
If the outer panels are a bit ropey, don't panic – new panels are readily available, although the cost can soon add up.
If it looks tatty on the outside, there's a good chance that the monocoque to which the panels are bolted will need extensive (and expensive) repairs.
Woodwork on the Traveller is structural so make sure there are not discoloured areas. New wood will cost about £3000.
Check the Minor's Achilles' heel – its rear spring hangers. These can take a day (each side) to repair.
Rust can take hold in the rear chassis extension and front chassis legs (which run either side of the engine).
Other common rot spots include the sills and the doors, especially along the bottom edges.
Good-quality repair panels for doors are available (vans, pick-ups and four-door saloons used the same doors, too).
Crucial pressings like the floorpans and the crossmember (which braces the whole shell) are common rot spots.
To identify a genuine Tourer, check the plate on the offside bulkhead onto which the body number is stamped. The second letter of a 1952-1958 Tourer's chassis number will be C, while later cars used an MAT prefix. Any car built after June 1969 will be a conversion.
Engine & Gearbox
Sidevalve engine shares many components with the Morris Eight Series E.
Exhaust valves burn out as a result of incorrect tappet adjustment.
Timing settings can be thrown out because of the distributor not being lubricated often enough.
Post-1956 cars got the 948cc A-series unit, which is hard-wearing and reliable.
Look for exhaust smoke under power, noisy tappets and reduced performance (it's not great to begin with).
Listen for big-end knocks when the engine is started, timing chain rattle and an oil light that's slow to go out.
Final and most usable version of the A-series is the 1098cc unit.
You can upgrade the A-series by fitting an unleaded-ready head and duplex timing chain conversion.
Gearboxes are a weak spot – synchromesh gives up easily (no Minor had it on first gear).
Once the teeth are chipped the ''box will become noisy and start jumping out of gear.
If the rear axle is noisy when you lift off at speed, the differential is worn.
Running Gear
Trunnions and swivel pins at the front wear out unless they're greased at least every 3000 miles or three months.
Pressed-steel wheels were fitted to all Minors as standard, and they don't give any problems.
The brake master cylinder lives under the driver's footwell and gets attacked by all the debris thrown up from the road.
Electrics and trim
Good news: just about everything available for the interior of a Minor, and none of it is very expensive.
Switchgear and instrumentation is also available, except for the Bakelite switches used on early cars (although plastic replacements can be bought).
Electrical issues are generally caused by previous bodges or old/cracked wires. New looms are available and easy to fit.
Can I run it on unleaded?
No. An additive is essential, or you can fit an unleaded head.
Back: Model Timeline
Next: Specifications
Buy a Morris Minor from £3,995