Lexus LS400 (1989 - 1994)
Last updated 14 October 2013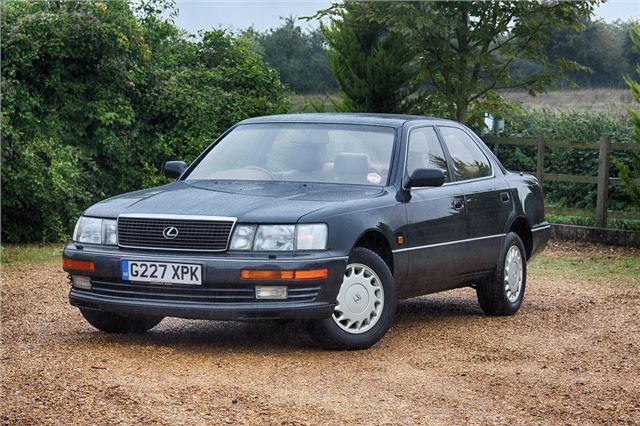 Buying Guide
Good
At the time, the World's most refined V8. Effortless acceleration.
16' 5" long by 6' wide and from 1765kg.
Brilliant, fully controllable, utterly obedient five-speed autobox from Oct '97 (four-speed before).
Unobtrusive traction and stability control system.
As luxurious, reliable and trouble-free as you'd expect of an S-Class competitor built by Toyota.
Three-year, 100,000-mile warranty.
Quentin Willson reckoned they were fantastic buys at over 100,000 miles. He had no trouble with them. (But that was more than 10 yers ago. They are old cars now.)
Trade generally approves of quality levels, particularly trim and switchgear. Lexus servicing seems to be top notch. Pre-August 1992 cars can legally be 'de-catted' for better performance and economy (talk to BBR on +44 (0)1280 702389). 241bhp three-speed auto Jan '90-Oct '94; 260 bhp 4-speed auto Oct '94-Oct '97; 280 bhp 5-speed auto from Oct '97. S and T reg cars came first in 2001 Top Gear / JD Power Customer Satisfaction Survey. Joint 2nd top make in 2002 'Which?' reliability survey cars 2000 - 2002; top for cars 1997 - 1999. 
Fuel consumption amazingly good. Easy 30 mpg on the motorway and 23-24 round town.
Tyres not stupidly expensive – around £100 per corner for the correct Dunlops.
Bad
Lack of steering 'feel' (even the Cadillac Seville STS is better in this respect).
Pre-1995 model-year cars could suffer from engine surging. Limo 'stretchers' not happy about the thickness of the body panels.
Lacquer coating on alloy wheels peels off, allowing them to oxidise badly.
A new set of tyres and a complete exhaust system costs the wrong side of £2,500. Better to have a stainless steel system made up as long as the existing cat converters are still okay.
Slightly above average warranty repair costs in 2003 Warranty Direct Reliability index (index 107.78 v/s lowest 31.93)due to high cost of individual repairs. Average warranty repair costs in 2003 Warranty Direct Reliability index (index 101.16 v/s lowest 31.93). Link:- www.reliabilityindex.co.uk
Watch
Underservicing. Some busy company directors ran these cars very hard as mobile offices, clock up 75,000 miles a year, didn't always have time to get services done on time.
Check 'cats' (£610 each).
Buy younger with high mileage rather than old with low mileage.
Toyota GB says: make sure the car has a full Lexus service history, that the automatic transmission fluid and filter have been changed every year, that the shocks and suspension are okay, that the timing belts have been changed at 60,000-mile intervals and that there is no excess wear on the rear discs through misuse of the parking brake. Check the exhaust system carefully (see above).
Typical faults/suggestions on an 11 year old LS400:
Alloy wheels corrode on all LS400s, not just early ones.
Exhausts very rarely needs replacing – if it does cheapest route is to get a stainless custom made for around £500.
Most cars need suspension work around 100,000 miles – control arms and balljoints go in particular. This can be expensive.
Steering wheel adjust motors can go and can be a pain to fix.
Leather on trim and seats can wear more than one would expect, look for tears on driver's seat bottom in particular
Dot matrix display on dash loses pixels
Recall data
Cars built 1992 - 1994, possible failure of suspension ball joint, affecting 1298 cars
(Unknown date) possibility that the vehicle stability control (VSC), can operate wrongly when a call is being received on a mobile phone that is near the console box, if this should happen the brakes might activate without prior notice.
Back: Driving
Next: Running
Compare classic car insurance quotes and buy online. A friendly service offering access to a range of policies and benefits.

Get a quote