Land Rover Range Rover (1970 - 1996)
Last updated 5 June 2013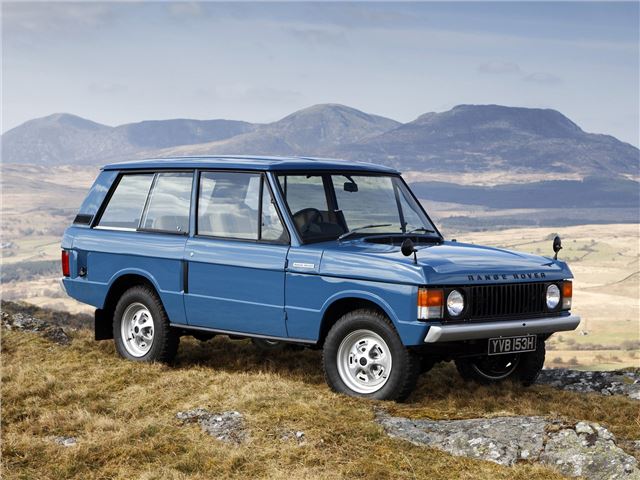 The original Range Rover enjoyed a 26-year production run, during which time it was almost unanimiously regarded as the best off-roader in the world... bar none. That's an exceptionally long production run. To see just how well the Rangie held up during such a long run, we compare a 1971 and 1993 cars. Does purity of design win over luxury equipment levels? Read on...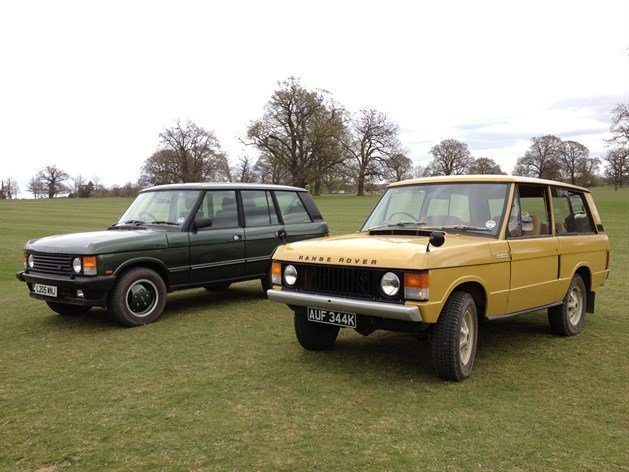 The back story
Land Rover's post-Evoque era has been a story of consistent success. Sales records are continually broken, profits are rocketing, and demand for the company's ever expanding model range has never been higher. Younger readers might think this is a new phenomenom for the maker of the 'world's best 4x4xfar', but similar success befell Land Rover during the early 1970s in the wake of the launch of the original Rangie. At £1998, it offered a combination of power, torque and all-round ability that no other car at this price point came close to matching.
The V8 powered all-weather Range Rover defined the SUV class, and charmed two generations of monied owners thanks to its all all round classlessness. Our 1971 car perfectly encapsulates the ambitions and desires of its engineering genius creator Spen King, as well as its stylist David Bache. And it should come as no surprise that minimalist examples such as this are the ones that everyone seems to want - enjoying burgeoning values, and massive demand from classic buyers who've recently switched on to its charms.
For the first ten years of its life, very few changes were made to the Range Rover - not because its maker didn't want to make them, nor because buyers didn't want them. The Range Rover remained largely untouched as it was starved of investment by a parent company - British Leyland - that was in dire straits. However, because of the sheer inherent brilliance of the Range Rover, when those improvements - five-doors, automatic transmission - were belatedly introduced, buyers lapped them up anyway.
And the 1993 Vogue we have pitched against the '71 original is pretty much the ultimate product of the Range Rover's extended Indian summer of sales. All its missing is the 108in wheelbase stretch, air suspension and soft dashboard of the very last cars... It comes with four-speed automatic transmission, air conditioning, power steering, windows and central locking, features which the 1971 car lacks. So why is it worth so much less?
On the road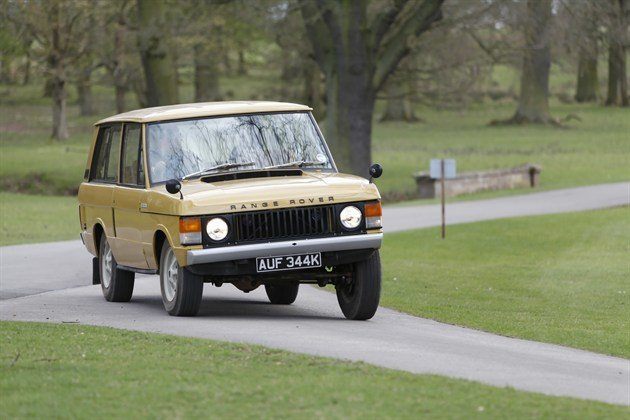 Jumping into the 1971 Range Rover it's easy to appreciate what it was about this car that so enraptured buyers back in 1970. The lofty driving position that's now seen as quite normal really was something new back then - enjoyed by lorry drivers and farmers, and certainly not those with Bank Manager-sized budgets. But that one aspect of the Range Rover driving experience really is central to its appeal - you sit high, enjoy near unimpeded visibility with the steering wheel pretty much in your lap. The view over the ridged bonnet is still unique.
The Rover V8 fires up with a lazy, slightly uneven, rumble. Engaging a baulky first via a long-throw gear lever and heavy clutch, driveaway is smooth, but not for those who dislike heavy controls. The cumbersome feel of the '71 Range Rover isn't improved come the first corner - without power steering, the huge, spindly wheel is quite an effort to turn, especially at parking speeds. But not only is it heavy, but it's also indirect and woolly. And once you're in the corner, be prepared for lots of body roll (see above). It's not as bad a situation as it might appear, as the damping is superb, and you never feel like you're not in control.
The sloppy steering and soft ride might be necessary for those needing to bridge the Darrien Gap, but it's far from ideal when cruising up the King's Road. But once underway and out of the city, you'll love the cosseting suspension and comfortable seats. This is clearly the perfect car for covering long distances - even without the benefit of overdrive or a five-speed gearbox.
By 1993, when our Vogue rolled off the line, the Range Rover was a very different beast. It had been developed very much as a luxury car, and one that any Mercedes-Benz S-Class or BMW 7-Series owner might not feel too alienated by. So there's a plushly-trimmed cabin, plenty of equipment, a good sound syatem, and if you'd plumped for the SE model, leather seats. Since the company discovered that buyers were more than happy to pay a premium for class, the price went up, as did the Range Rover's aspirations.
So, although when you jump into the '93 car, you're undergoing the same procedure of stepping up into the car and settling into a firm captain's chair with that wonderfu view forward, somehow it all feels much more homely, and - dare we say it - usable. And it also feels reassuringly familiar.
But you can also appreciate the huge improvements that have been made along the way. Thanks to fuel injection, you start it up, and the 3.9-litre immediately settles into a smooth, near-silent idle. Then you slide the T-bar selector of the ZF autobox into 'D', lift your foot gently off the brake, and onto the light, adjustable throttle, and smoothly set off. It's so dignified compared with its more agricultural forbear. It's much easier, too.
Thanks to lightweight power steering and a small thickly padded wheel, the '93 car is a whole lot more manoeuvrable, feeling more lightweight on its toes. Come the first corner, it still suffers from body roll (see below), but far less so than the early car - and thanks to steering that's more road-biased, you always feel just that little bit more in control.
And that's what really marks out these two cars. The original Range Rover is brilliantly conceived, but the refined 1993 version allows you to enjoy all the best bits without the suffering from the failings.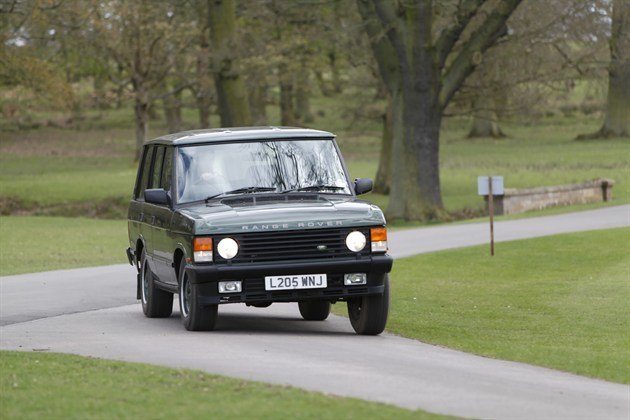 Verdict
Let's not beat around the bush here. The Range Rover is brilliant. As a piece of design, it was - and is -  so brilliantly fit for purpose, and looks so good, that we can completely understand just why a model of it was displayed in the Louvre, and why it also went on to enjoy such a long and fruitful life. As an off-roader, it was unrivalled - and yet, on the road, it was also masterful. A rare combination that few cars - even to this day - manage with quite so much verve.
And with that in mind, it's easy to declare the 1993 car the better of the pair. How could it not be? After all, it's more usable, more comfortable, better equipped, faster, better-made (yes, really), and thanks to much improved colour palettes, more timeless to look at, too.
But then, the original is just so unsullied as a piece of industrial design; as a concept; as a piece of art, that we can fully understand why the hose-clean 1970s car has so many classic car fans. However, we'll be happy to buy a later car and enjoy the creature comforts that we all enjoy in our cars today, because - let's face it - few of us will be venturing too far off-road in our classic Range Rover. Leave the early cars to the truly affluent, as they head towards investment-grade status, get the best you can, while adhering to our buying guide, keep it clean and well-serviced, and enjoy years of pleasurable motoring ahead.
Back: Model Timeline
Next: Buying Guide