Land Rover Discovery 2 (1998 - 2002)
Last updated 21 June 2018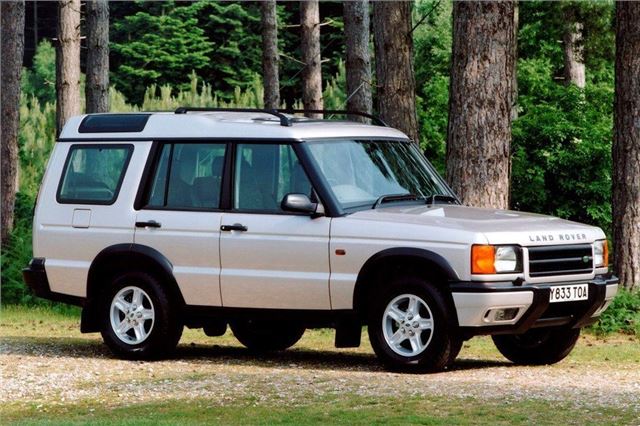 Buying Guide
Good
Brilliant off-road and better on road than the previous version
Bad
Appalling catalogue of build problems - worse even than 300 model. Sometimes delivered with wrong spec. Hard to distinguish visually from older model except for forward facing 6th and 7th seats.
Fuel consumption of TD5 around 17% worse than previous four-cylinder diesel and has reputation for poor trailer pulling at low revs (ECU chip now available from Land Rover dealers to increase torque at low revs).
V8s guzzle fuel and can develop porous bore liners/blocks. Useful site for information about V8 and for replacements: www.v8engine.com
Joint 16th from Bottom of 100 models for reliability in Auto Express 2002 survey. Also joint 16th from Bottom in 144 car 2002 JD Power / What Car? Customer Satisfaction Survey of V and W reg cars. Facelifted with 700 improvements in Spring 2002. LandRover had joint highest average cost in warranty claims for cars up to 10 years old in 2002 Warranty Direct index. Joint second bottom in 2002 Which reliability survey of cars up to 2 years old; 35 cars surveyed. Land Rover 3rd least reliable of 31 makes of car in 2002 'Which?' reliability survey cars 2000 - 2002; least reliable of 32 makes built 1997 - 1999.
Watch
Oil can contaminate an engine wiring loom. 
Frequent alternator failures due to ECUs giving an AC ripple on the 12 volts output. Ask for a full computer diagnostic as this should show up the problem. Check for oil in coolant or loss of coolant. By 2007 cracked cylinder heads were becoming a very common problem on TD5s. So much so that the supoply of replacement heads became used up. 

Vent plenum chamber drains have conical bungs designed to prevent ingress of water from below, but these very often get clocked by debris so bets to remove them if the car is mostly used on road. If not, water leaks onto fusebox, knocking out electrics. 

Spate of engine power, gearbox and exploding clutch problems which LandRover will not repair under warranty. Floodwater or water from fording streams gets into rear air suspension and causes it to collapse. TD5 Oil pump prone to sprocket bolt falling out and without oil pressure engine self-destrects. More on this at www.amanet.co.uk/td5oilpumpfailure.htm Later exposed on BBC Watchdog 12-4-2004. 

Excellent source of reconditioned transmissions, drivetrain parts and engines and also manual to automatic conversions www.ashcroft-transmissions.co.uk 

Rear wiper motor failure common. Excellent source of used LandRover parts generally is www.equicar.co.uk 

ACE actuator mounting chassis mounting brackets prone to failure and some ownwers have been told the car needs a new chassis as a result. 

SOLID FLYWHEELS to replace DMFs from www.rakeway.co.uk
26-8-2011: Alert over chafing of fuel pipe. "Two of our LandRover TD5 Discos II have strangely just had the same problem in the high pressure fuel lines wearing away on the tank sub frame and spraying diesel onto the hot exhaust pipe. (big fire risk and next to the plastic tank full of diesel).  The chafing issue on the plastic (neoprene) pipe is because it is routed/crimped under the rear sub-frame between the plastic tank and wears on the metal body edges. Thus it is unlikely to be apparent below 5 yrs old or hard off road work. This is a fundamental design issue and nothing to do with wear and tear or material failure etc so a medium time dependent issue with LR.  It must have been recognised in the early 2000's by LR as they now split the particular pipe from the bundle of pipes previously sold. And they include an extra sheet or protective sheet. 
21-1-2012: Warning: Stick to OEM (Girling) brake and clutch parts. 'Pattern' versions of these parts are often poor quality and frequently fail.
2-11-2013: "TD5 Engine Oil Pump Bolt" problem. The bolt holds the sprocket on for the oil pump in the sump. There are reports of a number of these bolts working loose and falling out causing terminal damage to the engine. There is no Land Rover recall for this issue, but they sell the bolt (part number LYP101400) with threadlocker applied. There is much forum discussion on the subject, but no definitive information on when Land Rover realised there was a problem and ensured these bolts were installed with threadlocker. The TD 5 was introduced in 1998. The following link explains the problem and fix in detail: http://www.discovery2.co.uk/Oil_pump_bolt.html
28-12-2013: The rear of the chassis is a water trap and is not adequately rust-proofed inside so rots from the inside out. Vital to check this area before buying. The metal can be replaced by it's a big job involving the removal of many components including the fuel tank. Obviously, towing weakens this area further.
Recalls
October 1999: all 9,296 new model Discoverys sold to date recalled because of a problem with the ABS brakes. Ten minutes' work required on car.
March 2000 recall of vehicles built July-Dec 1999: Active Cornering Enhancement system could malfunction due to pipes fracturing. New pipes to be fitted.
June 2000: recall of 11,000 TD5s built between September 1998 and June 1999 because flywheel of manual versions could fail. Further recall of V8s because engine idler pulley could fragment throwing drive belt off and leading to loss of cooling, power steering.
TWO RECALLS 3/4/2001: Build 1/1/1998 to 31/12/2000, VINs XA410482 to 1A452817 and XA220000 to 1A299999: Recall 1 (automatics only): Water may migrate up gearbox breather pipe and corrode park lock mechanism leading it to fail to lock properly. Gearbox breather pipe to be re-routed and affected gearboxes to be repaired. Recall 2: High pressure hose of Active Cornering Enhancement system not fitted with anti vibration attenuator may fracture. Where attenuator not fitted, high pressure hoses to be replaced.
FOUR RECALLS: 19-3-2002: VINs XA900000 to XA907214 recalled because spurious signal may affect ABS electronics; because throttle cable may have been damaged during vehicle assembly; because parking brake lever may operate inconsistently; abd because short circuit may occur in cigar lighter bulb holder. 30/4/2003: Throttle may stick in the open position> Replace with quality assured throttle body unit.
March 2004: 272,000 Discovery and Defender models built from October 1998 recalled for checks and repairs to their anti-lock braking systems. Land Rover has found that a potential leak in the system could reduce braking efficiency or even lead to complete failure.
A further fault potentially affecting Discoverys built between January 2000 and September 2003 could result in fires starting beneath the bonnet. In some circumstances, fluid can leak from the active cornering enhancement system, contaminating the engine oil and causing a fire.
31-3-2004 Safety recall R/2003/180: (where ABS fitted) possible loss of braking, build dates 1-10-1998 to 1-12-2003.
31-3-2004 Safety Recall R/2003/179: on Discovery II V8 and TD5 possibility of underbonnet fire, build dates 29-1-2000 to 30-9-2003.
11-8-2004 Safety Recall R/2004/093: on TD5 possibility that the rear fuel line may chafe against the harness, build dates 30-6-2001 to 19-4-2004.
Back: Model Timeline
Compare classic car insurance quotes and buy online. A friendly service offering access to a range of policies and benefits.

Get a quote