Lamborghini Countach (1974 - 1990)
Last updated 11 August 2013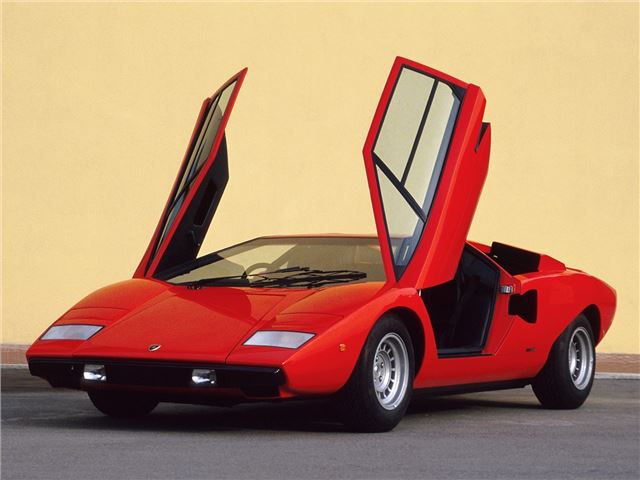 Buying Guide
Watch
Watch out for rust - if a Countach isn't stored proplerly, it will corrode quckly and comprehensively. All body panels are available, with the factory still able to supply them - at a cost.
The most rusty areas are the front wings, and the bodykit of S cars and later can hide quite a few evils.
It goes without saying that accident damage is an ever-present problem. Fine, if the repairs have been done correctly - but scary if not. Body panel fit quality of factory cars is good, so if you have uneven shutlines, have a good delve into its history.
Chassis corrosion is also an issue, so check its spaceframe very closely indeed.
Does the aircon work? It needs to, due to the cabin doing a passable impression of a greenhouse on summer days. A good aircon specialiast will find no problems with a Countach, and will often advise to change all hoses as well as fitting a more efficient compressor. Expensive, but worth it.
The V12 is strong and surprisingly rugged if looked after properly. And that means specialist care. Check when the valve clearances were last adjusted - it's a big job, and not everyone is that thorough in their servicing regimes.
Oil needs changing every 6000 miles, and needs to to be of a high quality semi-synthetic variety. A Lamborghini V12 shouldn't burn oil, and if it does, be prepared for a nasty surprise. Full rebuilds are of the order of £15,000.
If there's oil around the sill area, check that the lubricant pipe that runs from the radiator back to the engine is in one piece. It's a £1000 job to replace them - and they do wear out with age.
If the engine misfires or coughs, budget to replace the electronic ignition system with something more modern - the Magnetti Marelli module fitted as standard will be worn out by now.
Gearbox is rugged, but rumbling bearings are worth listening for. Higher pitched whining will be the worn gears - but you'll be unlucky to encounter this. Budget on £10,000 for a gearbox rebuild.
Clutch life is limited - bank on 20-000-40,000 miles, and to replace the whole lot is an engine-out job, which will come to £5000-10,000 depending on the model. 
Rear suspension is complex, and costly to rebuiild at around £2000 (because of its rose-joints), but it needs to be tip-top, given the performance potential. Easiest way to tell? Snap oversteer...
Brakes are straightforward, but check that the rear discs are okay, as the handbrake has a separate pair of calipers, and they are prone to seizing.
Back: Driving
Next: Running
Compare classic car insurance quotes and buy online. A friendly service offering access to a range of policies and benefits.

Get a quote