Hyundai Pony X2 (1991 - 1994)
Last updated 18 May 2018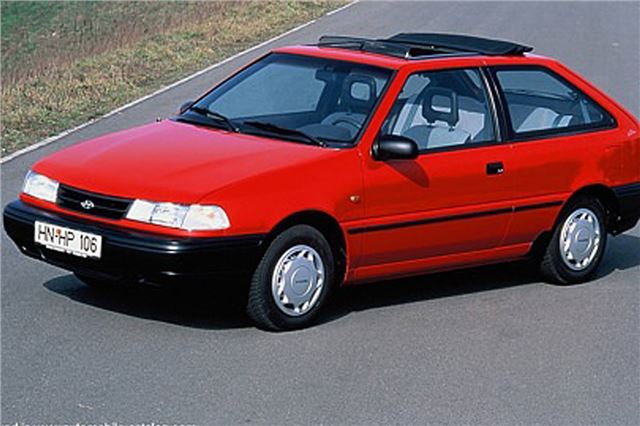 A generally reliable, robust car.
Looks ugly. Feels cheap inside. Engines are underwhelming, especially from August 1992 onwards.
Updated 12 February 1991
Hyundai launches its Pony X2. Car has good engine range:1.3 litre wiyh 72 bhp; 1.5 had 83 bhp. 1.5 has PAS. Car size is 13' 4" by 5' 3" and from 915kg.
Introduction
Hyundai's first assault on the European car market began in 1976 with the launch of the Pony - a car that was midway between a supermini and a compact hatchback in terms of its size, but was one of the cheapest cars on sale at the time.
That first Pony was utterly conventional, rear-wheel-drive, with a live rear axle and a chassis based loosely on that of the Ford Cortina.
By the 1990s, though, the Pony was past it. Hyundai, however, was not. It had established a foothold in the European market, and one that today leaves the brand among the top ten car manufacturers in the UK, and one of the five biggest in the world. It's an incredible story of growth.
Part of its success was its decision to expand its model range in the late 1980s and early 1990s. First came the Stellar, an even more Cortina-like large saloon, closely followed by the Excel, its first front-wheel-drive offering.
The Excel was sold in the UK as the Pony X2 to help with brand familiarity, and it came with a choice of 1.3 and 1.5-litre engines based on Mitsubishi designs. The styling was by Giorgetto Giuigiaro, a deliberate ploy to give it a more harmonious European look than its predecessor.
Thanks to keen pricing and high levels of standard equipment, it did quite well in terms of retail sales, but like all Korean cars of the era, many of them succumbed to corrosion, making survivors quite rare.
Next: Model Timeline