Honda S2000 (1999 - 2009)
Last updated 2 July 2018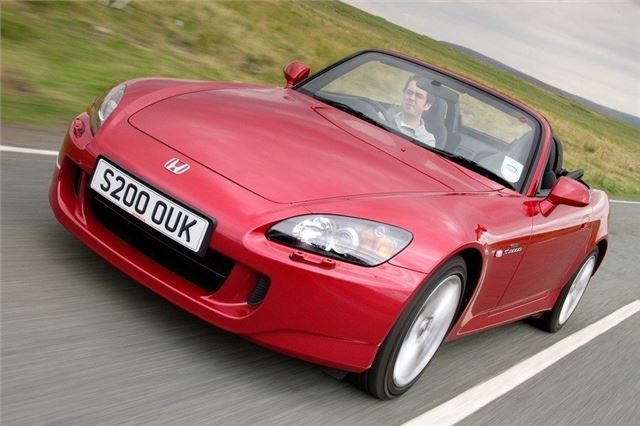 Powerful, very high revving engine. Big digital speedo. Rear drive. Only one known engine failure.
Early S2000s lack steering feedback.
Updated 17 July 2007
2007 model a much better car. Excellent digital speedo/rev counter. More steering feel. And power no longer comes in three steps, but is delivered in a linear surge. 02-02-2008: S2000 refreshed for...
Introduction
Honda took nearly 30 years to replace its S800 sports car – but we reckon the S2000 was well worth the wait. With 240bhp available from its 2.0-litre engine and a 9000rpm redline, this rear-wheel drive two-seater was not for the feint-hearted.
There's a bit of debate about where the name comes from. Some say it reflects the model year, but we reckon that – like the S800 – it's (unimaginatively) named after its (rounded up) 1997cc engine capacity.
It was yet another example of Honda trying to ditch its beige image – sensible, shrewd, and sober. Which presumably why they said they'd only build the 1995 SSM concept if they sold enough (about 20,000 units a year) to make a profit.
Just another example of good ol' reckless Honda: ignoring the bean-counters and throwing caution to the wind in an effort to please petrolheads. After five years of dragging the concept car from show to show, Honda finally delivered the goods.
Honda consistently tweaked the S2000 throughout its lifetime, with revisions to the chassis and the addition of stability control in 2006. Essentially, the younger the car is, the less twitchy it is. Don't let that put you off, though – the tweaks were all about set-up rather than replacing components.
During its ten years on sale, it never did quite make its sales targets (only 110,000 were made) – but it did find its fans. The normally-aspirated high-revving VTEC isn't to everyone's tastes, but if you love a no-torque rev-the-nuts-off-it driving experience then you won't be disappointed.
You'll also be thankful that the manual gearbox is one of the best ever made (handy, because you'll be up and down it a lot). It's typical of the S2000's controls, which are all beautifully weighted. As is the car itself, with the engine tucked right back behind the front axle for perfect 50:50 weight distribution.
It is a short-wheelbase rear-wheel drive sports car, though, so if you run out of talent you won't be able to defy the laws of physics. Living in fear of being bitten isn't a bad thing though as it encourages you to keep the car in its sweet spot with minimal inputs – rather than throwing it around and sawing at the wheel.
Consequently, buying a used S2000 does require you to be sensible. Sure, the engines are hard-working but they're reliable – if they've been serviced correctly. Low oil pressure will limit the revs, timing chains can tick, and you'll also want to check for accident damage. Honda also skimped on rust prevention so make sure you get the car on a ramp.
Next: Model Timeline