Honda Prelude (1991 - 1996)
Last updated 17 May 2018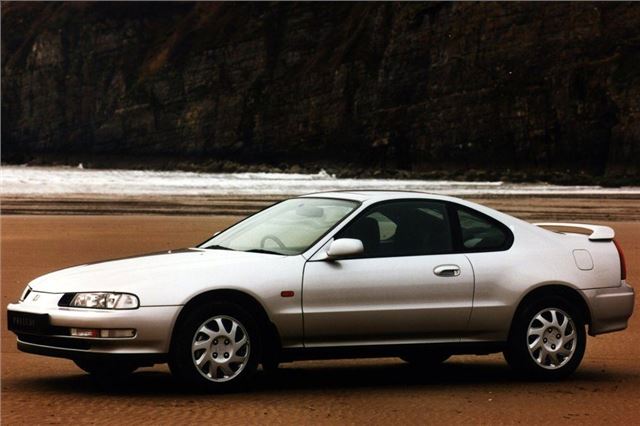 Free-revving, refined engines. Sleek, sporty looks and the drive to match. Nicely engineered and well built.
Very little space in the back seats. Ensure your budget stretches to maintaining it properly.
Updated 15 April 1992
Old Prelude turned from a glassy coupe into a more serious looking car altogether. 14' 7" long by 5' 6" wide. Useful range of engines include 131 bhp 2.0 litre; 158 bhp 2.3 and 183 bhp 2.2 VTEC. VTEC...
Introduction
Honda threw caution to the wind with for the fouth generation of its Prelude coupe. Gone was the angular design and the pop-up headlights, replaced by smoothly styled curves. The company tried to talk up the aggressive, masculine nature of the new look – but it was obvious to everyone that it had gone soft in a bid to win over the US market.
The base model S used the 135bhp 2.2-litre single-overhead cam four-cylinder while the Si model got 160bhp from a 2.3-litre double-overhead cam. The Prelude's famous four-wheel steer system was also switched from mechanical to electronic.
Inside, it was loaded with kit and refined. A strong performer, it made the dash to 60mph in 7.0 seconds – although many road testers felt that it ran out of steam after the needle hit 80mph. Nevertheless, it was deceptively fun to drive.
But the early 1990s coupe market was a tough gig. Launched in 1991, the Prelude went up against everything from the Volkswagen Corrado to the Rover Tomcat. On paper, the Prelude was more expensive and lacked power – but its engine was flexible (even lower down the rev range) and there was plenty of punch where it mattered in the 50-70mph zone.
Today, the Mk4 Prelude is a hugely underrated classic offering drivers something that's reliable, fun to drive, packed with kit… albeit lacking in the charm department. You might not fall in love with it, but you'll be grateful that you have it.
Next: Model Timeline