Honda Civic (1995 - 2000)
Last updated 24 April 2018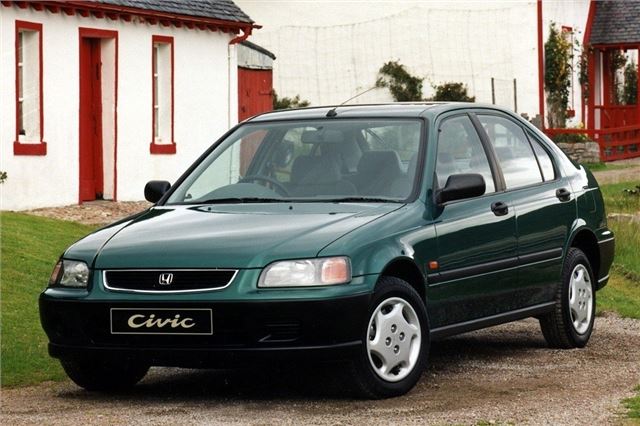 Buying Guide
Good
In June 2001 Honda was rated by Motor Warranty Direct as Britain's 4th most claim-free used marque.
Eighth most reliable car in 2001 Fleet News Survey of 620,000 fleet cars mostly under 3 years old.
10th from top for reliability in Auto Express 2002 survey.
Joint 2nd top make in 2002 'Which?' reliability survey cars 2000 - 2002; also 2nd for cars 1997 - 1999.
Honda generally 8th lowest average warranty repair costs in 2003 Warranty Direct Reliability index (index 67.27 v/s lowest 31.93)
29th from top car out of 137 in 2003 Top Gear survey.
Honda 2nd top top of Reliability Index for 2004 combining low average cost of repair of £263.17 with low 19.62 failures per 100 Warranty Direct policies www.reliabilityindex.co.uk
This model Civic the 2nd most reliable car in 2005 Warranty Direct Reliability Survey with 7 repair claims per 100 cars.
1996-2001 Civic 6th equal most reliable car in 2007 Warranty Direct Reliability Survey with 9 faults per 100 cars.
Bad
Average performance in 1998 NCAP safety tests. 

5-door range did not sell as well as Honda might have hoped as was still some anti-Japanese ill-feeling in the 1990s and 'True Brits' went for the Rover equivalents.
Watch
Quite a few 1.5 VTEC-E were laundered into second-hand cars via the rental fleets. 

All 'Swindon Civics' appreciate frequent servicing and clean oil. 

Some complaints of poor reverse gear selection, so check this on test drive. 

Open hatch of 5 door and look for rust where the hinges join the body. The similar Rover 400 5-door has a big problem here. 

Wiper motors have been known to fail due to ingress of water which doesn't easily drain out. 

R reg cars can suffer from heater switch failures.
Reports from USA of automatic transmission failures.
Recalls
20-5-2000: 1999 and 2000 MY: 12,711 1.4s and 1.5s not fitted with ABS may suffer failure of brake proportion control valve leading to instability when braking. Part to be replaced with modifed unit.
3-11-2000: 2,327 5-door Civics built 10-3-1999 to 10-10-2000 recalled because of possibility of breakage of rear suspension lower arm bolts. Bolts to be replaced.
1-7-2001: 3,694 Swindon Civics built 27-11-2000 to 24-4-2001 recalled because brake pedal and clutch pedal lock pins may be incorrectly installed. Check and re-instal as necessary.
5-7-2001: 4,601 Swindon Civics built up to 4/12/2000 recalled because screw clips on filler tube connecting filler pipe to tank may not be correctly installed and could result in a leak in a severe impact. Check and re-install as necessary.
20-05-2002: Contact point in ignition can fail at speed causing a stall in cars built 1997 to 2000.
6-6-2002: Electrical contacts in ignition switch wear prematurely leading to a stall. Remedy to fit new switch. 53,175 Hondas affected. 

All official Honda recalls: www.honda.co.uk/cars/owners/youandyourcar/recallsandupdates
Back: Model Timeline