Ford Granada Scorpio (1985 - 1998)
Last updated 18 January 2014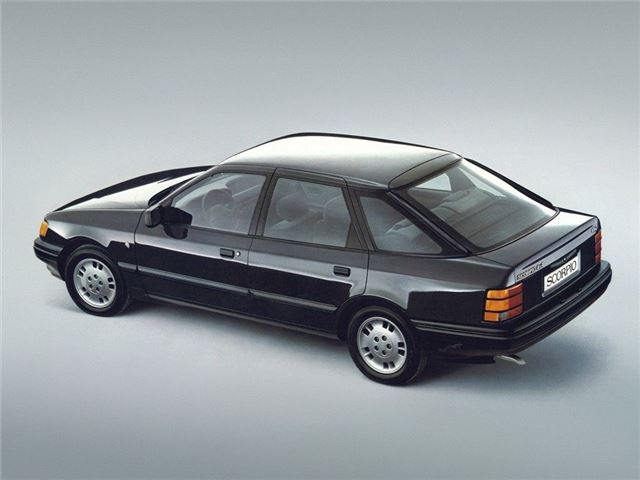 Buying Guide
Good
Big, soft, comfortable, overgrown Sierra hatchback.
15' 3" long by 5' 10" wide (saloon: 15' 7"; estate 5' 10" long) and weighing from 1185kg to 1362kg.
Engine range began with 1,796 single ohc carb engine with 89bhp complemented by 1993cc single ohc engine at 104bhp witha carb and 107 to 113bhp with injection; 130bhp 2394cc injected V6 and 148bhp 2792cc injected V6.
69bhp Peugeot 2.5 diesel engine also available.
In March 1989, 1,998cc twin chain cam 123bhp four replaced 1,993cc single cammer; V6 grew to 2,933cc and 150bhp. Cosworth chain driven overhead cam 2.9 V6 came along in 1991 with 193bhp.
2.0 litre twin-cam petrol is reasonably economical. Cosworth 24v V6 is quick.
Controversial fisheyed facelift occurred in January 1995. All models now 15' 10" long saloons and all named Scorpio.
Engine range: same 114bhp 2.0; more powerful twin cam 2.0 at 134bhp; 2.3 litre version with 145bhp; 148bhp pushrod 2.9 V6; 208bhp 2.9 Cosworth and 123bhp 2.5 turbodiesel.
BMW, Toyota and Ford jointly suffered the fewest breakdowns attended by German ADAC during 2001.
Ford had 3rd lowest cost in warranty claims for cars up to 10 years old in 2002 Warranty Direct index www.performanceindex.co.uk  Ford had 7th lowest average warranty repair costs in 2003 Warranty Direct Reliability index (index 65.51 v/s lowest 31.93) Ford 4th top top of Reliability Index for 2004 combining very low average cost of repair of £207.58 with average 32.16 failures per 100 Warranty Direct policies. Link:- www.reliabilityindex.co.uk
Bad
Frankenstein facelift in 1995. Hatchback dropped from range. Dropped entirely from Ford line-up in April 1998.
Autobox problems common from 60,000 miles.
Useful helpsite (this links directly to the page about replacing batteries in keys): www.fordscorpio.co.uk/remote.htm
Watch
Oil leaks caused by cracked head on 2.0 litre 16v.
Smoking V6s. ABS failure. Standard ABS costs a fortune to fix.
ECU problems common, leading to catalytic converter problems.
Fuseboxes vulnerable to moisture and contacts rust.
Alternator failure on 2.5TDs (instead of 120 amp alternators, some Turbodiesel models were fitted with 75 amp alternators which are not up to the job and cost £900 to replace with 120 amp units).
Cracked heads and oil leaks on two litre twin-cams.
Timing chain of 24-valve stretches and need replacing together with associated tensioners every 3 - 4 years or 60,000 miles.
Autoboxes only last 60,000-80,000 miles. www.fedauto.co.uk
Clocking rife on these cars. Avoid 4x4.
Check footwells for damp because a leaking heater matrix costs £500 to replace.
Back: Introduction
Next: Running