Ferrari 456 (1992 - 2003)
Last updated 26 August 2016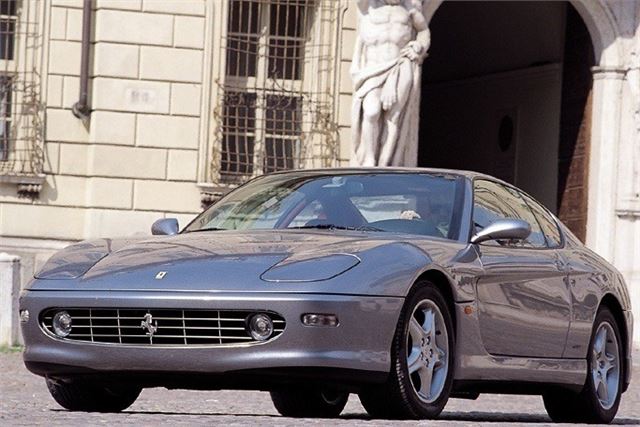 Buying Guide
Good
Excellent independents such as DK engineering www.DKENG.co.uk can look after it for more affordable buckets of cash than official Ferrari dealers. 456M means manual 6-speed, which it MUST be. Fitted luggage can be purchased to go with it.
Also recommended www.theferraricentre.com and Carrs of Exeter.
Bad
The wonderful, old fashioned, gated Ferrari gearchange is getting a bit old-fashioned.
Feels a bit flat compared to 550 Maranello.
Heavy fuel consumption.
Replaced by 612 Scaglietti in mid 2004.
Watch
Accident damage.
Cars stolen from another country.
Anything remotely dodgy about the car's history, stay well away.
Make sure recall work carried out.
17-4-2013: Owner of a 1995 456GT wrote: "A friend of mine is keen to buy a Ferrari 456 GT. He has driven my 1995model and loved it . However, all the articles both he and I have read suggest the subsequent 456 M is the one to buy. I find this odd as when the updated M model was introduced the body ceased to be manufactured in aluminium and steel was used instead. According to the definitive book on the 456 the weight increased by 60 Kg which for a performance car is a lot, combined with the obvious corrosion factor I find it all a bit puzzling. Numerous articles seem to suggest these cars are horrendously expensive to maintain. I have owned mine for 12 years and it is servicedannually at Carrs in Exeter. Nothing major has ever gone wrong and I cancertify that running a Range Rover during the same period has proved to be a lot more expensive."
Watch
17-12-98: Barrel nuts of fuel hoses could be over-tightened causing fuel leaks. Hoses and barrel nuts to be replaced and tightened correctly.
9-8-99: connection from brake fluid reservoir to master cylinder may fail. Replacement connector to be fitted.
23-7-2001: 23 456s and 550s built 1-1-2001 to 31-12-2001 (VINs ending 3276 to 4683) recalled for parking brake ratchet to be replaced.
23-4-2003: The gaiter and associated parts connecting the fuel filler neck to the tank may not conform to spec. This may cause a fuel leak which could contaminate the tyres and adversely affect the handling of the car. Replace fuel filler neck connecting system with parts that comply to spec.
23-4-2003: The gearbox oil radiator return and delivery pipes may leak due to an error in the manufacturing process. This could impair the operation and reliabilty of the gearbox. Fit quality assured oil radiator retur and delivery pipes.
Back: Introduction